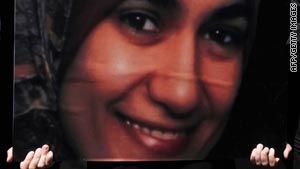 A demonstrator holds a poster of Marwa El-Sherbini at a protest in Istanbul, Turkey.
STORY HIGHLIGHTS
Native Russian accused of killing pregnant Muslim woman during defamation hearing in Germany
Muslims accused Germany of not protecting Muslim population from hatred against Arabs
Suspect's Russian military pass shows army did not draft him for medical reasons, court says
Court info: Russian authorities say suspect may have "indifferent schizophrenia"
Berlin, Germany (CNN) -- The verdict in the trial of a German man accused of stabbing to death a pregnant Muslim woman in a courtroom has been postponed because of new evidence, a spokesman for the Dresden state court told CNN Tuesday.
The verdict in the two-week trial was scheduled to be handed down by 10 a.m. Wednesday, but it has been moved to Wednesday afternoon or possibly Thursday, spokesman Peter Kiess said.
The defendant -- a 29-year-old, unemployed, ethnic Russian identified only as Alex W. -- is accused of stabbing Marwa El-Sherbini 18 times in front of her 3-year-old son during a defamation hearing in the court in July.
When Sherbini's husband rushed to help her, a security guard confused him for the attacker and shot him.
The killing of Sherbini, a pharmacist who was three months pregnant, stirred outrage in the Muslim world, especially in her native Egypt. Many accused Germany of lax security and for not adequately protecting its minority Muslim population from a new wave of hatred against Arabs.
Sherbini moved to Dresden in 2003 after her husband received a grant to study genetic engineering in the Max Planck Institute. He was scheduled to present his doctoral thesis when Sherbini was killed.
The court's new evidence is Alex W.'s Russian military pass, which shows the Russian army did not draft him for medical reasons, Kiess said. The court also received information from Russian authorities saying Alex W. was discharged because he was believed to have "indifferent schizophrenia," Kiess said.
It means a court-appointed psychologist who had earlier deemed Alex W. to be fully responsible for his actions will now have to re-evaluate his findings, taking into account the new information.
Both the defense and prosecution must now hold their closing arguments again, Kiess said.
The original case stemmed from an incident in August 2008 at a public playground, when Sherbini asked the defendant to move his niece from a swing so her son Mustafa could use it.
The man responded by calling Sherbini -- who wore a headscarf -- "terrorist" and "Islamist," prosecutors said.
Sherbini, 33, sued him for insult and abuse. A court found the man guilty of defamation and fined him 780 euros ($1,172).
Alex W. appealed the ruling.
The two sides appeared in court again on July 1. After Sherbini finished testifying, the man allegedly pulled out a knife from his backpack and attacked her. He also allegedly stabbed her husband three times and attacked another person.
According to media reports, police officers tried to intervene to end the fight, and a number of shots were fired. One hit the husband, sending him to a hospital where he lay in a coma for two days.
Anger in the Arab world was fanned by what was seen as the muted German reaction soon after the incident. The country's media reported on the incident but did not mention any racist aspect of the killing, and Egyptians deemed the response as a sign of Islamophobia.
Hundreds attended Sherbini's funeral in her hometown of Alexandria, Egypt, and Muslims also angrily protested in Berlin.
Police cordoned off streets around the court during the proceedings, and about 200 officers stood guard.