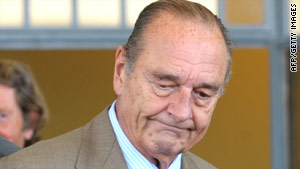 Jacques Chirac autobiography has been described by French media as eagerly anticipated.
STORY HIGHLIGHTS
Chirac publishes first volume of memoirs
Book an instant best-seller in France, publishers claim
Publication comes as Chirac prepares to face corruption trial
Paris, France (CNN) -- Former French President Jacques Chirac is ready to face trial for corruption, he told a leading French radio station Thursday.
"I'm ready to explain myself in front of French justice," Chirac told Europe 1.
He said he would appear in court in person, adding that "the only thing that counts is justice. I am not asking for clemency or indulgence."
"I simply took note of (investigative judge Xaviere Simeoni's) decision, even though I naturally contest her analysis," he said of the court ruling that the trial would go ahead. "So I will do what every other citizen has to do, explain myself before the tribunal with serenity and determination so that the truth is established."
Chirac, 76, faces corruption charges dating back to his time as mayor of Paris, before he became president in 1995. He is accused of using city employees to work on his presidential campaign.
He is charged with breach of trust and misuse of public funds from March 1994 to May 1995. The charges refer to 21 cases of "fictitious" employees.
Chirac is due to become the first ex-president of France ever to go on trial. He had immunity from prosecution while he was president but it expired when his term ended in 2007.
The Paris prosecutor had asked in September that the charges be dropped because the statute of limitations had run out on several of them.
But Wednesday he said he would not fight the judge's decision last week to have the trial go ahead.
Chirac's memoirs went on sale Thursday, a day after the prosecutor's announcement.
The first volume of Chirac's autobiography, "Memoires: Chaque Pas Doit Etre un But" ("Each Step Should be a Goal"), chronicles his first years as a politician, up to his election as president.
Chirac writes about his relations with major French political figures like the former French presidents Georges Pompidou, Francois Mitterrand, and Valery Giscard d'Estaing.
The French news channel France 24 called it "without a doubt the most eagerly awaited political book of the French literary season."
Chirac's publisher, Editions Robert Laffont, said it shipped 230,000 copies of the book to stores across France, and that all had sold out by Thursday morning.
"This morning we have 10,000 new orders," Nicole Lattes, director-general of the publishing house, told CNN.
Chirac was mayor from 1977 to 1995 and served as president from 1995 to 2007.
He will stand trial along with 10 other civil servants, but it is not clear when the trial will take place, said Isabelle Montagne, the spokeswoman at the court.
The former president remains popular in France, which may be part of the reason his memoirs have drawn so much interest.
"The book is very interesting, very," Lattes said. "The majority of the newspapers write that it's a very good book, because he wrote for the first time the truth. And he's very, very popular, and I'm sure it will be a success."
Chirac writes in an "alive and direct style" with humor, according to his publisher. Readers can learn about the birth of a politician, the origin of his policies and how they were shaped, and his relationship with his family, the publisher says.