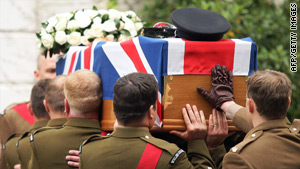 A casket containing the body of Lt. Col. Rupert Thorneloe is carried at his funeral in July, 2009.
STORY HIGHLIGHTS
Lt. Col. Rupert Thorneloe warned helicopter shortage was exposing troops
Thorneloe said chances of being hit by roadside bomb were greatly increase
One month after writing memo, Thorneloe was killed by roadside bomb

London, England (CNN) -- A high-ranking British officer killed this year in Afghanistan warned a month before he died that a shortage of helicopters was putting troops at risk, a leaked memo showed Saturday.
In a military memo sent June 5, Lt. Col. Rupert Thorneloe wrote that the lack of helicopters was forcing troops to travel overground, increasing the chances that they could be killed by a roadside bomb, or improvised explosive device (IED).
Less than a month later -- on July 1 -- Thorneloe was killed by a roadside bomb in Afghanistan's southern Helmand province, along with Trooper Joshua Hammond. Thorneloe remains the highest-ranking British serviceman to die in combat since the 1982 Falklands War.
Thorneloe's warning goes against repeated assertions from British Prime Minister Gordon Brown that a shortage of helicopters is not leading to more deaths in Afghanistan.
The memo from Thorneloe, a commanding officer who oversaw more than 1,000 men, was his weekly update sent to the Ministry of Defence from the field. The memo was leaked anonymously to Adam Holloway, a member of Parliament and a former member of the Grenadier Guards.
"I didn't do anything with it for quite a long time, but when it turned out that the Ministry of Defence had been offered yet another commercial contract to massively increase the helicopters in Helmand and they turned it down, that's when I thought enough is enough," Holloway told CNN on Saturday.
Holloway included the memo in a report this month for the Center for Policy Studies, a British think tank.
Thorneloe, 40, and Hammond, 18, were killed as they traveled along a canal in Lashkar Gah in Helmand, the British Ministry of Defence said. Thorneloe had left the battle group headquarters on the resupply convoy to visit his men, who were conducting a major operation in hostile territory, the ministry said.
He and Hammond, a tank driver, were killed despite traveling in an armored vehicle, the ministry said.
"I have tried to avoid griping about helicopters -- we all know we haven't enough helicopters," Thorneloe wrote in his memo. "This increases our exposure to bombs at the roadside. ... We cannot not move people, so this month we have conducted a great deal of administrative movement by road. The current level of Support Helicopter support is therefore unsustainable."
The situation "has increased our exposure to IEDs," Thorneloe wrote, adding that the system used to manage helicopters in Afghanistan "is very clearly not fit for purpose."
Thorneloe left behind a wife and two daughters. Hammond was a week away from his 19th birthday.
Weeks after Thorneloe's death, Brown was facing repeated questions about whether British troops needed more helicopters in Afghanistan. Brown addressed the issue in a Downing Street news conference July 22, when he spoke about Operation Panther's Claw, which was going on in Helmand at the time.
"In the operations we are having at the moment, it is completely wrong to say that the loss of lives has been caused by the absence of helicopters," Brown said. "For the operation we are doing at the moment, we have the helicopters we need."
In response to reports about the memo Saturday, British Defence Secretary Bob Ainsworth -- who has said he knew Thorneloe personally -- said British forces deserve the best equipment and the government should be determined to provide it.
"We know the value of helicopters on operations and that is why we have increased the numbers and types, improved engines and almost doubled flying hours," Ainsworth said in a statement. "But improvements are ongoing, with additional Merlins being deployed imminently and more Chinooks being sent over the coming year. To counter the roadside bomb threat we have also been improving unmanned air surveillance and provided more and better protected vehicles."
Holloway said Thorneloe's memo should raise questions about the British government's commitment to the military effort in Afghanistan.
"If we can't trust them even to provide the right equipment to the troops, then how can we trust them that the strategy is right?" he said.