Experts doubt meteor led to Latvian crater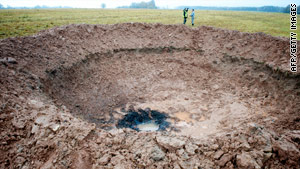 Officials check out a crater Monday near Mazsalaca, Latvia.
STORY HIGHLIGHTS
Crater seems to have been dug in northern Latvia, doctoral student says
Astronomy specialist: "It appears that it was not a meteorite"
Crater is smaller than originally described
Scientists, Latvian armed forces investigating
(CNN) -- Scientists expressed skepticism Monday about reports that a meteorite's impact created a crater near a northern Latvia farm.
The crater appears to have been dug by shovels, a doctoral student in geology told reporters, according to LETA, the nation's official news agency.
"A simple, man-made hole with a [chemical] substance poured in," said Andris Karpovics of the University of Latvia. He noted that a mixture of aluminum and iron, possibly with sulfur added, likely resulted in the increased temperature that was observed in the crater.
After inspecting the scene, another expert, astronomy specialist Ilgonis Vilks, told reporters the temperature within the crater was lower than what it would have been had a meteorite created the impression.
Vilks added that clumps of dirt would have surrounded the crater had a meteorite created it.
"Currently, it appears that it was not a meteorite," Vilks told reporters. He declined to comment what could have created the crater, whose size he put at about 33 feet (10 meters) wide and 6.5 feet (2 meters) deep -- smaller than originally described.
Vilks also did not deny that people could have dug the hole but said he is not an expert to judge this possibility.
Scientists and the armed forces from the northern European nation will inspect the crater and conduct an investigation, the news agency said.