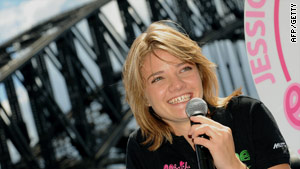 16-year-old Jessica Watson is one of several teenagers wanting to navigate solo around the globe
STORY HIGHLIGHTS
A growing group of teenagers are attempting to sail solo around the world
13-year-old Ducth Laura Dekker is awaiting the court's decision on October 26
Tell us what you think of teenage solo sailors in the Sound Off
London, England (CNN) -- On October 26, a court in the Netherlands will decide whether 13-year-old Laura Dekker is allowed to fulfill her dream of sailing around the world -- solo.
In August, Dutch authorities placed the girl under state care for two months, following her parents' refusal to prevent her from undertaking the potentially dangerous voyage.
She is one of the growing number of young people who have recently sailed or are in preparation for a solo trip around the world, fuelling the debate over whether teenagers should be allowed to circumnavigate the globe unaccompanied.
The latest teen to embark on a solo round-the-world voyage, Australian Jessica Watson, set sail from Sydney on the 23,000 mile journey last Sunday, ignoring advice from the Queensland government to abandon her attempt.
Sixteen-year-old Watson sparked controversy last month when she crashed her bright pink boat into a coal carrier during a preparation sail. A report out this week found that Watson was sleeping at the time.
It found that Watson, who could be gone for over a year, had checked the radar just minutes before crashing, but failed to notice a 63,800 ton ship a mile away.
The growing trend of young sailors like Watson and Dekker hoping to cirumnavigate the globe is dividing opinions.
"It's a tricky question," double Olympic sailing gold medalist Shirley Robertson told CNN, "because sailing has always had that sense of adventure to it and it is a sport for mavericks. And some people are just made for that. But at such a young age how can you know that the person is ready?"
Already this year two teenagers have defied expectations and broken world records for solo circumnavigation.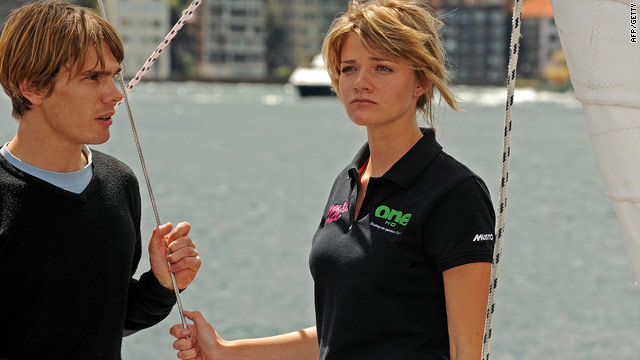 Gallery: Teen solo sailors
In August this year, 17-year-old Mike Perham became the youngest person to sail solo around the world. He broke the record set by American Zac Sunderland in July, only two months earlier.
Perham said he was forced to battle 50-foot waves and 57 mph winds in the Southern Ocean between Australia and Antarctica. He told CNN at the time that at one point, a "freak wave" picked up the boat and turned it on its side.
Dee Caffari, the first woman to sail single-handedly around the world in both directions earlier this year, knows how gruelling the conditions at sea can be.
After completing the solo round-the-world race, Vendee Globe, she told CNN about the hardships, including lack of sleep and food.
"It's a perceived risk and you go out there knowing that you have done all you can to deal with all scenarios. You don't just go out there on a whim -- we are well trained," she said.
Jessica Watson's parents say that despite her young age their daughter has the necessary experience and skills in navigation, electronics and maritime safety procedures.
It would be devastating if we lost her, but I still think it would be worse to say 'no you can't go'
--Robert Watson
Despite the risks, they felt it would be worse to prevent her from making the attempt.
"It would be devastating if we lost her, but I still think it would be worse to say 'no you can't go' because of that risk, because of what she's put into it," Watson's father Roger told Australian current affairs program "60 Minutes."
Mike Perham's father, Peter, told CNN that the question should not be about age, but experience.
"It's not so much age that's the barrier," he said. "You have to have a whole set of skills and be physically fit. And it all depends how quickly you can gather those skills. Mike had already sailed across the Atlantic and that was good preparation."
And Perham's young age proved to be a good gimmick for sponsors, according to his father.
"To be honest," said Perham's father, "he probably wouldn't have been able to sail around the world if he had been 18 or 23. The sponsorship that he received was partly because the attraction was his age."
Robertson believes that teenagers are eager to sail around the world because "there is this feeling when you're young that you're invincible. And in adventure sports there is also a feeling that you have to be the strongest, longest, fastest first. It's part of our culture. But why can't [these teenagers] get a bit more experience first?"
As to what age is appropriate for solo circumnavigations, Robertson added, "As a mother myself, I would say it has to be the age of consent. Before that I wouldn't let them go on a round-the-world trip. I would encourage them to do it with other people. As a sailor you learn most from other people."
Watson may be followed by 15-year-old Abby Sunderland, who is also hoping to follow in her brother Zac's footsteps , who sailed around the globe for 13 months until July this year.
Whatever the verdict on Monday, it is unlikely to suppress the strong debate that is currently gripping the world of sailing.