LONDON, England (CNN) -- Italian Prime Minister Silvio Berlusconi denied Thursday that payments to the Taliban in Afghanistan were authorized to protect Italian soldiers deployed there.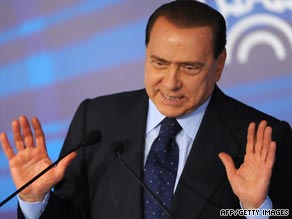 Silvio Berlusconi has refuted the claims made by the Times newspaper as baseless.
The accusation, published by the London Times, is "baseless," his office said in a written statement.
"Berlusconi's government has never authorized nor allowed any form of money payment in favor of members of the Taliban insurgency, nor does it have any knowledge of these types of initiatives enacted by the previous government.
"As a way of proving this, it is enough to remember that in the first half of the year 2008, the Italian contingency in Afghanistan have received numerous attacks, and specifically in the area of Sarobi. On February 13th, 2008, the second lieutenant Francesco Pezzulo was killed in one of those attacks," the statement continued.
According to the Times, when French troops replaced the Italians in the Sarobi area east of Kabul in mid-2008, they were not told about the practice.
"Within a month, ten French soldiers had been killed in an ambush by the insurgents. It was one of the biggest single losses of life by NATO forces in Afghanistan," the Times said.
The French public was horrified, because the men had been mutilated, it added. "They were not informed that the departing Italians had kept the region relatively peaceful by paying local Taliban fighters to remain inactive."
The French military agreed with Berlusconi that the Times report was "baseless."
Adm. Christophe Prazuck, spokesman for the French armed forces general staff, said in a statement, "We have no information that would confirm what the Times said."
"The French forces are, with the Turks and the Italians, in Kabul, where we have commanded operations for more than two years, in a coordinated way and in total transparency," Prazuck said.
The Times interpreted Berlusconi's denial as an attempt to distance himself from any secret deals of the previous Italian administration. Berlusconi defeated Romano Prodi in the April 2008 elections, and the Times said he had been in power for about three months when the handover of Sarobi to the French was completed.
According to the Times, U.S. intelligence officials discovered through intercepted conversations that the Italians had been buying off militants in other areas, "notably in Herat province in the far west."
It added that "in June 2008, several weeks before the ambush, the U.S. ambassador in Rome made a demarche, or diplomatic protest, to the Berlusconi government over allegations concerning the tactic."
E-mail to a friend

CNN's Hada Messia contributed to this report.
All About Silvio Berlusconi • Afghanistan • The Taliban