By Jonathan Wald
CNN





LONDON, England (CNN) -- British Prime Minister Gordon Brown will repay more than $19,000 in expenses after an independent auditor found that he and other lawmakers had made excessive claims, according to Brown's office.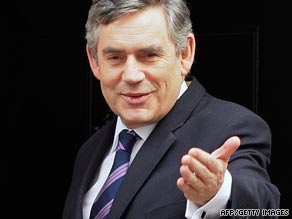 Brown is repaying money he claimed to cover gardening and decorating costs.
In an e-mailed statment, Brown's office said the prime minsister "will cooperate fully and make the necessary repayment" of $19,678.20 -- approximately £12,415 -- originally expensed for cleaning, gardening and decorating costs.
Following damaging revelations in May that British lawmakers had abused the system of expenses, Brown announced a series of reforms, including an audit by retired government official Thomas Legg of every member of parliament's expenses over the past five years.
Legg retrospectively imposed new limits on certain expenses, including annual caps of £2,000 (about $3,170) on cleaning costs and 1,000 pounds ($1,585) on gardening costs. Legg determined that, according to his new rules, Brown should repay excesses of $16,986 (£10,716) on cleaning and $479 (about £302) on gardening.
The career government official also highlighted a bill for painting and decorating for more than $2,200 (£1,396) from April 2006 that was submitted twice.
"Mr. Brown has apologised for this inadvertent error," Legg's office's statement said, and he "looks forward to condemning the discredited old system to the history books."
Following scrutiny of the claims of opposition leader, David Cameron, Legg asked for further information on expenses concerning his mortgage payments.
"I've had a letter from Sir Thomas Legg," Cameron said. "It doesn't raise new issues it asks for a mortgage statement but not money to be paid back but if any request is made, I will meet it straight away."
All Members of Parliament received individual letters Monday from Legg to inform them their expenses presented no issues or to provide further information or as in many instances to repay money in keeping with Legg's new rules. Legg's final report on all expenses is expected in December, but he does not have the power to compel MPs to repay money according to his recommendations.
Don't Miss
The furor surrounding British MP's expenses began when the Daily Telegraph reported that many lawmakers had claimed excessively or manipulated the rules.
Controversial claims detailed by the newspaper included thousands of dollars' worth of interest on a mortgage that had already been paid, money spent to clean a moat on a country estate and more than $1,000 (£630) spent on a small house on a pond for ducks.
In the immediate aftermath, several cabinet and shadow cabinet members caught up in the scandal resigned their posts, more than a dozen members of Parliament promised to step down in the next election and Members of Parliament forced the speaker of the House of Commons to step down -- the first time that had happened since 1695.
Allowances for second homes -- which most lawmakers have because they need to be in London for parliamentary business -- were a major point of controversy. The Telegraph exposed some lawmakers for "flipping" the designation of their primary and second homes to avoid taxes or make large claims.
Many lawmakers defended their claims as being within the rules, but even where that was the case, lawmakers faced public criticism for their perceived greed.
E-mail to a friend