By Simon Hooper
CNN





LONDON, England (CNN) -- Some Olympic experts believe Barack Obama's trip to Denmark to lobby for Chicago to host the 2016 Games could swing the decision in the U.S. city's favor.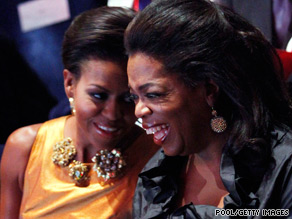 Chicago standard bearers First Lady Michelle Obama (left) and TV star Oprah Winfrey.
The International Olympic Committee meets in Copenhagen on Friday to choose between Chicago and three other candidate cities: Madrid, Spain, Rio de Janeiro, Brazil and Tokyo, Japan.
For the first time, all four cities will be supported in their final presentation to IOC delegates by either heads of state or heads of government.
Brazilian President Luiz Inacio Lula da Silva is representing Rio, King Juan Carlos II of Spain is backing Madrid and Japanese Prime Minister Yukio Hatoyama is supporting Tokyo's candidacy.
David Magliano, former marketing director of London's successful bid for the 2012 Games, said top-level political representation had become a crucial element for cities campaigning to host the Games following then-UK Prime Minister Tony Blair's last-minute lobbying for London and Vladimir Putin's support for the 2014 Winter Games to go to Sochi, Russia.
"Now you've got a full deck," Magliano told CNN. "Everyone of the bidding cities has a president, a member of the royal family or a political leader going. It demonstrates unequivocal political backing and it's a symbol of wider public support for the Games."
Deploying well-known and influential figures was an extremely effective way of courting IOC members' votes, he added.

Watch the latest betting as CNN reporter places his own bet »
"How flattering must it be to have kings, presidents and premiers pass by you, eager to spend just a few minutes with you, and then stand up and essentially make a plea for your vote," he said.
The choice of London over Paris to host the 2012 Games also marked a victory for Blair over then-French President Jacques Chirac, who had also traveled to the 2005 IOC meeting in Singapore to back his capital's bid.
Magliano said Blair had been particularly influential when meeting delegates one-to-one but said the former prime minister was also passionately supportive of London's bid.
"He was effective because he was committed, and he was committed because he genuinely believed in the project," he said.
Magliano said he believed Obama -- the first U.S. president to lobby an IOC meeting directly -- could be equally persuasive as a salesman for Chicago's bid.
"For him to be there in the flesh just telegraphs something," he said. "This is the first time a (U.S.) president has gone in person, so that in itself is significant. It's quite clear as well that he and his team are quite skilled at putting together quite sophisticated arguments. He can persuade with rhetoric."
Ed Hula, editor of Around the Rings, agreed that Obama's presence could be enough to crucially change the opinions of a few IOC members.
"Barack Obama coming to Copenhagen is considered something that could put Chicago ahead," Hula told CNN. "It certainly has given them a lot more attention and a lot more sway. If this is a close race, a few votes in favor of Chicago could be decisive."

But Magliano said that Rio had been the frontrunner in the final months leading up to the Copenhagen meeting and the presence of Brazilian President Lula could also influence Friday's outcome.
"(Lula's) stock is riding high in the world. It's not as if he is a politician whose time has come and gone," he said. "He is possibly eclipsed by Obama, but he himself is a star and an influential figure on the world stage. There is no doubt it will be extremely close."
E-mail to a friend

CNN's Melissa Gray contributed to this report.