BERLIN, Germany (CNN) -- U.S. officials urged American citizens in Germany to keep a low profile and remain wary of their surroundings after the terrorist organization al Qaeda posted a video message threatening attacks in the country.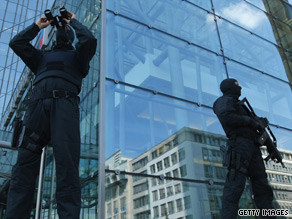 German special police patrol in Berlin last month during a visit by Israeli Prime Minister Benajmin Netanyahu.
A State Department travel alert, issued Wednesday, remains in effect until November 11 -- two weeks after Germany holds its federal elections on Sunday.
Al Qaeda posted its video threat on the Internet on September 18, vowing attacks if the elections do not come out the way it wants.
The same day, the German government reacted to the video by raising its own alert level and heightening security.
The British Foreign Office has also issued an advisory to its citizens living and traveling to Germany.
The State Department travel alert asks Americans to keep abreast of news reports and consider the security procedures in place when they visit public places or pick hotels and restaurants.
Germany's interior ministry said earlier this month that the country has noted an increase in threats by al Qaeda and other Islamist groups since the beginning of the year.
In the nearly 26-minute video statement, a man identified as Bekay Harrach, using the pseudonym Abu Talha and speaking in German, said that, if the September 27 elections vote into power parties that do not pledge to pull German troops from Afghanistan, there will be a "rude awakening."
The speaker called on Muslims living in Germany to stay away from public life during the first two weeks after the elections, implying that any attacks would take place then.
The speaker repeatedly criticized German Chancellor Angela Merkel and her support of the wars in Iraq and Afghanistan.
He also criticized Merkel's rivals, the Social Democrats, but offered the possibility of a "peace offer."
"If the German people vote for peace, then the Mujahedeen will choose peace with Germany as well," he said. "And with the withdrawal of the last German soldier from Afghanistan, the last Mujahed will also leave Germany. Al Qaeda gives you their word."
E-mail to a friend