LONDON, England (CNN) -- Britain is examining the possibility of scaling back its Trident nuclear deterrent program by cutting the number of missile-carrying submarines from four to three, Prime Minister Gordon Brown said Wednesday.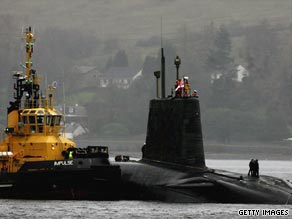 British submarine HMS Vengence returns to Faslane Submarine base on the river Clyde December 4, 2006
"All nuclear-weapons states must play their part in reducing nuclear weapons as part of an agreement by non-nuclear states to renounce them," Brown said in a speech at the United Nations General Assembly in New York. "This is exactly what the non-proliferation treaty intended. In line with maintaining our nuclear deterrent, I have asked our national security committee to report to me on the potential future reduction of our nuclear weapon submarines from four to three."
The step is part of Britain's long-term goal of nuclear non-proliferation around the world, British Foreign Secretary David Miliband said late Tuesday outside the United Nations building.
"President Obama has injected new drive into the effort to meet the goals of the non-proliferation treaty, which is a world free of nuclear weapons, and our prime minister, Gordon Brown, is determined that Britain plays its full part in those discussions," Miliband said.
By saying that Britain wants to reduce the number of submarines, Brown shows he is thinking in practical terms about Britain's role in global disarmament, Miliband said.
"Once there were five nuclear-armed powers," Brown said Wednesday. "Now there are nine, with the real and present danger that more will soon follow. And the risk is not just state aggression, but the acquisition of nuclear weapons by terrorists. So we are at a moment of danger when decades of preventing proliferation could be overturned by (a) damaging rise in proliferation. If we are serious about the ambition of a nuclear-free world, we will need statesmanship, not brinkmanship."
Miliband rejected suggestions that the move is intended to save money.
Don't Miss
"Defense, and nuclear defense especially, is long-term questions, not short-term financial issues," Miliband said. "The math does not work that three are three-quarters of the cost of four. It's a much more complex exercise."
Nuclear opponents welcomed the news of Brown's scheduled announcement, saying the reduction in submarines is a step in the right direction.
"This will support the current global initiatives towards the elimination of all nuclear weapons, led by President Obama and backed by leaders and nations around the world," said Kate Hudson, who heads the Campaign for Nuclear Disarmament.
Britain has maintained a nuclear arsenal since 1956, with at least one nuclear-armed submarine somewhere at sea continuously since 1969.
The Trident program involves U.S.-made Trident missiles able to launch from British submarines and fitted with nuclear weapons. Then-Prime Minister Margaret Thatcher proposed the Trident program in 1979 as a way to replace Britain's obsolete Polaris strategic nuclear missile, according to the Margaret Thatcher Foundation.
In 2006, the British government approved plans to update Trident, and a new generation of submarines is due to be ready to replace the Vanguard Class submarines by 2024. But the program, which is expected to cost about £20 billion ($29 billion), has been heavily criticized by anti-nuclear campaigners.
Brown will use his address Wednesday to call for all nations to come together to achieve a nuclear-free world, according to Britain's Press Association, which published excerpts of what it said was an advance copy of Brown's speech.
"If we are serious about the ambition of a nuclear-free world we will need statesmanship, not brinkmanship," Brown will say in the speech, according to Press Association.
The prime minister will propose a "global bargain," the association reported, under which states with nuclear weapons would provide non-nuclear nations with the technology for civilian nuclear power in return for promises they wouldn't use the knowledge to develop weapons.
Brown will highlight the nuclear issue as one of five priorities for the international community, together with the economy, climate change, terrorism and poverty, Press Association reported.
He also will call for "a progressive multilateralism that depends on us finding within ourselves and together the qualities of moral courage and leadership that for our time and generation can make the world new again -- and for the first time in human history, creates a truly global society," the association said.
E-mail to a friend