By Melissa Gray
CNN





LONDON, England (CNN) -- No one knows where he started his slow, lonely journey, but it ended this week when a quick-thinking driver scooped him up and rescued him from a busy motorway south of London.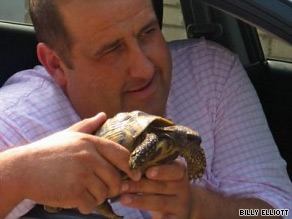 John Formby holds Freeway the tortoise Saturday, September 19 in Worthing, England.
Freeway the tortoise, as he has since come to be known, is now living comfortably at an animal rescue center in Worthing, along England's south coast, while staff try to find his owner.
Whoever owned Freeway fitted him with a microchip, but unfortunately the chip is blank, with no information about where he came from, said Billy Elliott, an animal rescue officer at Worthing and District Animal Rescue Service.
The microchip is a type usually used in America, but it is made in Belgium, so it's likely the reptile came from one of the two countries, Elliott said.
"They feel he was definitely from abroad, but we still don't know," Elliott told CNN. "It's still up in the air where he came from."
It was Worthing resident John Formby who spotted the tortoise Wednesday as it crawled across five lanes of traffic on the M25, a major motorway that circles London.
At the junction with the M23, a motorway that goes south toward Worthing, Formby said he spotted what he thought was a rock or piece of debris on the road.
"As I get closer to it, it's moving," Formby told CNN. "As I get closer, I recognize it as a tortoise."
Formby said he pulled over onto the hard shoulder of the road and went back to grab the animal.
"As I'm running back, there's a few cars coming up," he said. "About seven or eight cars had gone past it, but two cars had actually gone straight over the top of it. A white van drove over the top of it."
The tortoise had by that point made it from the middle lane to the slow lane, so Formby said he "jumped out (and) grabbed it." The animal didn't seem upset, he said -- "it seemed very determined just to get where it was going."
Formby put the tortoise in his car, fed it, and took it home to Worthing, where he brought it to a vet to see whether it had been microchipped. The vet found the chip, but it had no information on it.
"The microchip is an extremely useful system in helping reunite lost pets and their owners, but the microchip is only as good as the information on the database," Elliott said.
He said they hope the chip manufacturer may at least be able to trace it to the veterinarian who inserted the chip.
Freeway is a Hermann's tortoise, a type of small to medium tortoise originally from southern Europe, according to the California Turtle and Tortoise Club. Freeway himself is no bigger than a dessert bowl, Formby said -- about eight inches across and only three or four inches high.
Elliott estimates he's about 10 years old.
"He's very friendly," he said. "He's obviously a much loved pet."
The animal rescue service will keep Freeway for the weekend before placing him in a foster home, Elliott said. If the owner can't be traced within 28 days, they will then try to find a new owner.
Freeway's past and future may be a mystery, but one thing is for sure, Elliott said.
"He's one lucky tortoise."
E-mail to a friend