(CNN) -- Russian President Dmitry Medvedev says those who question whether he has power in his country are going by "stereotypes" and "stigmas."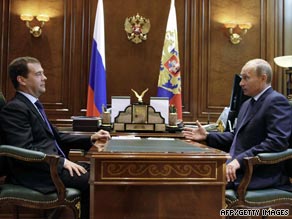 Russian President Dmitry Medvedev, left, and Prime Minister Vladimir Putin chat in Gorki earlier this month.
"In our country, where there's so much red tape, nobody would even lift a finger without me signing a paper first, even if they have different opinions about who's in charge," Medvedev told CNN's "Fareed Zakaria GPS" in an exclusive interview airing Sunday. "That's an absolutely clear thing for anyone who wants to sort out this issue."
The president was responding to suggestions that he may be serving as a ceremonial facade while all the power remains with Prime Minister Vladimir Putin, the former president.
"Foreign policy? Only one man does it in this country, the president... Naturally, all the directives, all the decisions are adopted by the president," Medvedev said.
In the wide-ranging interview, Medvedev also weighed in on the U.S. president, concerns about Iran's nuclear ambitions, and Israel.
"I like to communicate with President Obama. We held a very serious meeting with him during his visit to Russia. I calculated that we had spent eight hours together. That's quite a lot of time for such type of contacts," Medvedev told Zakaria.
"I'm thankful to my colleague for the fact that he wants to sort out many problems. That's important. He has another good quality: He listens to your arguments. He formulates his position, which may not necessarily coincide with the Russian position. But at least this is a result of a thought-out policy, thought-out approach as to what is useful or not useful to the United States of America. In that sense, it's comfortable to deal with him."
The United States and Russia have disagreed over Iran, and possible steps the U.N. Security Council may take to push Tehran to comply with U.N. demands over its nuclear program.
"I truly believe that Iran needs a system of motives and incentives with regards to its nuclear problem," Medvedev said.
Russia has agreed to sell Iran its S-300 antiaircraft missile system. Medvedev said what they sell is in keeping with international law and "always defensive systems."
The decision has sparked concerns among many in Israel who view Iran as a threat.
Asked whether he is concerned that Russia's move might fuel calls within Israel for a strike on Iran before it could deploy missiles, Medvedev responded that Israeli officials have told him they have no strike planned.
"Our task boils down to making sure that the Middle East is a quiet, normal place for all to live in. That's the task of the day," Medvedev said.
The president had some criticism for his own economy.
In a recent article, "I directly said I don't like some structural elements of our economy. I don't like the fact it's being geared towards raw materials," he said in the CNN interview. "The level of corruption is categorically unacceptable."
And while he rejected impressions that the media in his country is broadly stifled by the government, Medvedev said "there are circumstances when people try to pressure journalists, I will not hide it from you. In fact, very often that happens in the provinces where the regional bosses probably don't like some critical articles written against them."
'Fareed Zakaria: GPS'
See interview with Russian President Dmitry Medvedev on "GPS" Sunday, 1 and 5 p.m. ET / On CNN International: 0900, 1600 Buenos Aires l 1300, 2000 London l 2000, 0300 (Mon) HK


"Whether some bosses like it or not, in the modern age of global information, there are no subjects you can conceal," he added. "You can sometimes be silent about or hold back certain things on TV, but remembering the fact that there are around 40 million Internet users in Russia today, people from across the country will learn the news within five minutes. Therefore, trying to curtail press freedom is a totally hopeless thing to do."
He said his country is making strides in combating corruption. It "is not as bad as it used to be," he said.
The Russian president also said he seeks greater engagement with the West.
"There are issues where we will not move forward on any questions without mutual assistance," he said, citing climate change as an example.
"I count on the fact that the West also needs good relations with Russia, and that it's not one-way traffic."
E-mail to a friend

All About Vladimir Putin • Barack Obama • Iran • Nuclear Weapons