(CNN) -- Russia, the United States and NATO should consider linking their missile defense systems in Europe, the NATO chief said Friday.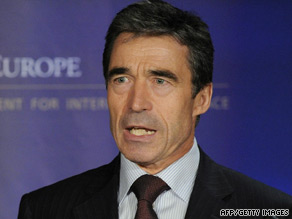 New NATO Secretary General Anders Fogh Rasmussen
"Both NATO and Russia have a wealth of experience in missile defense," Anders Fogh Rasmussen said. "We should now work to combine this experience to our mutual benefit."
Rasmussen made the suggestion in his first major speech as NATO's new secretary-general. His speech centered on ways the alliance could strengthen its relationship with Russia.
"I believe that of all of NATO's relationships with partner countries, none holds greater potential than the NATO-Russia relationship," he said.
Rasmussen spoke a day after the United States announced it is significantly overhauling its plan for a missile defense shield in Europe.
U.S. President Barack Obama said the decision was based partly on the latest analysis of Iran's offensive capabilities.
The "new missile defense architecture in Europe" will be ready faster, work with existing technology and provide better missile defense than the program proposed by then-President George W. Bush, Obama said.

How missile defense works »
Obama said the change of gears was based on an "updated intelligence assessment" about Iran's ability to hit Europe with missiles.
The Islamic republic's "short- and medium-range" missiles pose the most current threat, he said, and "this new ballistic missile defense will best address" that.
Obama's Republican adversaries were quick to accuse him of selling out allies to placate Russia.
The "decision calls into question the security and diplomatic commitments the United States has made to Poland and the Czech Republic," said Sen. John McCain of Arizona, the 2008 Republican nominee for president.
Russia's President Dmitry Medvedev welcomed Obama's statement with televised remarks of his own from Moscow.
"We appreciate the responsible approach of the U.S. president," he said, characterizing the new U.S. position as "putting into practice" an agreement he made with Obama earlier this year.
Reaction from Poland and the Czech Republic was cautious, with leaders saying they were assured that the United States remained committed to a strong relationship and their security.
Missile defense has been a sore point in relations between Washington and Moscow, with Russia believing the shield would ultimately erode its own strategic nuclear deterrent.
Obama has been seeking a stronger relationship with Russia and better cooperation from the Kremlin to support tough U.N. economic sanctions against Iran if it continues to pursue its nuclear ambitions.
Obama has maintained that Russia had nothing to fear from a U.S. missile defense system, which would be designed to intercept a solitary missile from Iran or North Korea, as opposed to "a mighty Russian arsenal."

A senior administration official flatly denied a diplomatic motive to scrapping the missile defense program.
"This has nothing to do with Russia," the official said before Obama made his announcement Thursday morning. "The notion that we're abandoning missile defense is completely false. It's evolving into a different system."
E-mail to a friend

All About Russia • Poland • Czech Republic • NATO