By Al Goodman
CNN Madrid Bureau Chief





MADRID, Spain (CNN) -- A Spanish judge has indicted three suspected former Nazi concentration camp guards Thursday on charges of genocide and ordered their arrests.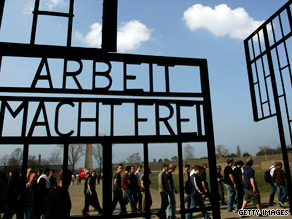 Visitors mark 60th anniversary of liberation Sachsenhausen concentration camp in 2005.
Two of the suspects, Johann Leprich and Anton Tittjung, each 84, are thought to live in the United States, while the third, Josias Kumpf, also 84, is believed to live in Austria, according to a copy of the court order viewed by CNN.
They are accused of serving in the Nazi SS. Leprich and Tittjung were armed guards at the Mauthausen concentration camp and Gross Raming subcamp, while Kumpf served at the Sachsenhausen camp, the court order said.
In addition to Jews and other types of prisoners, the Spanish judge said there more than 7,000 Spaniards held prisoner at Mauthausen, of whom 4,300 died.
Some Spaniards arrived at the Sachsenhausen camp, in convoys from France, the document said.
The order, including international arrest warrants, was issued by Judge Ismael Moreno of Spain's National Court, which investigates genocide and crimes against humanity involving Spaniards.
The 18-page document cited prior judicial investigative work from other countries regarding the backgrounds of the three alleged ex-Nazi guards and their suspected roles in the notorious Nazi death camps during World War II.
E-mail to a friend