By Fred Pleitgen
CNN





(CNN) -- There's a saying that the German peace movement has been using since the days of the Cold War that translates into something like this: "Imagine there's a war and no one shows up."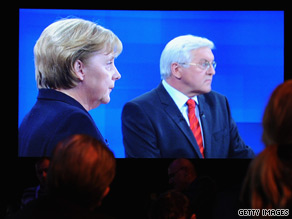 Chancellor Angela Merkel and rival Frank Walter Steinmeier are shown on a giant screen.
Adapt that to German politics and you have a pretty good summary of Sunday's pre-election TV debate between Chancellor Angela Merkel of the Christian Democratic Union and her rival Frank Walter Steinmeier, of the Social Democratic Party, who is also this country's Foreign Minister: "Imagine there's an election and no one fights to win."
That is what viewers saw last night.
With just two weeks to go until Germany goes to the polls, both candidates opened up by praising each other and saying how well they have been working together.
Four years ago Merkel and Steinmeier teamed up as Chancellor and Vice Chancellor in a grand coalition, pledging to tackle rising unemployment and a financial crisis that would drag Germany into the deepest recession it had seen since World War II.
"I think our coalition has done a good job," Merkel said, before adding that she wanted to see her party become stronger to form a more business-friendly government.
The divisions between the two remained unclear for most of the debate, which might not be too surprising given that they were forced to put to rest many of their differences in an effort to combat the recession.
Neither Steinmeier nor Merkel are known as tough political fighters anyway.
But Steinmeier -- who used to head the chancellery under Merkel's predecessor, Gerhard Schroeder -- is losing in the polls, despite being responsible for many of the reforms that have made Germany more competitive economically. Depending on which survey you take, he trails Merkel by between 13 and 15 points.
Still he remained tame. In his most passionate attack he said, "I believe democracy lives and only lives when you have social equality. That's what I will take care of with a government led by the SPD.
"I believe responsibility and common sense must be returned to the economy. I will look after the jobs of tomorrow and that we don't return to nuclear power. That's what I stand for and this is why I want your support."
However, a moment that will surely be remembered was when Steinmeier and Merkel teamed up and attacked the reporters anchoring the debate on the topic of General Motors and the sale of its German subsidiary, Opel, which the German government facilitated with loan guarantees.
For those who managed to watch the entire debate some differences could be seen between the two candidates: Merkel said she wants to lower taxes after the election to jumpstart the economy; while said this would ruin public finances at a time when Germany has been forced into its biggest public deficit since World War II.
Merkel is also contemplating extending the use of nuclear energy, while Steinmeier wants to continue shutting down nuclear power plants. And Steinmeier wants a minimum wage in Germany, while Merkel says this would cost too many jobs.
All this was served up in a cozy and respectful atmosphere by two candidates who rarely interrupted each other and often defended their common policies.
One topic dangerously neglected was Germany's involvement in Afghanistan, where the country has more than 4,000 troops on the ground. Earlier this month, a German commander called in an air strike to bomb alleged Taliban militants who had reportedly stolen two tankers. A report by an Afghan government commission later concluded that many civilians were probably killed in the air raid.
The two candidates gave this issue about a minute and half.
After watching the debate -- or the "TV duel," as it's been called in Germany -- it seems both candidates are playing around with the possibility of extending their grand coalition for another four years. They certainly appear to be getting on quite well.
E-mail to a friend

All About Germany • Angela Merkel