LONDON, England (CNN) -- Three men were found guilty Monday of plotting to blow up planes on flights between Britain and North America, Woolwich Crown Court in London said.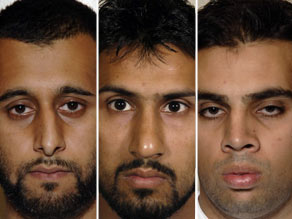 Left to right:Tanwir Hussain, Abdullah Ahmed Ali and Assad Sarwar were found guilty of the bomb plot.
Abdullah Ahmed Ali, Assad Sarwar and Tanwir Hussain were all found guilty of "conspiracy to murder by the detonation of improvised explosive devices on trans-Atlantic aircraft" in a majority verdict of 11 to 1. Five other men were found not guilty of that charge.
It was the second trial of the men arrested in August 2006 on suspicion of plotting to blow up planes with liquid explosives in soft-drink bottles.
They could be sentenced as early as Thursday, a court spokesman said.
The alleged plot led to new limits on the amount of liquids passengers can take through security checkpoints at airports.
The measures, which were introduced overnight, caused severe disruption for travelers, creating delays and many canceled flights.

Watch how three men were found guilty of airline bomb plot »
Don't Miss
Authorities have since eased restrictions on what can be taken on planes, although limits on the amount of liquid that passengers can carry onboard still apply at certain airports and on certain routes.
It was the second trial for the men, after British prosecutors said last December they would retry them because the jury could not reach a verdict on a key charge.
They were found guilty in the last trial of conspiracy to murder, but not of intending to endanger the safety of aircraft.
In the new trial, they faced a slightly different charge -- plotting to murder by blowing up planes.
A fourth man, Umar Islam, was found guility of conspiracy to murder -- a separate charge that was not explicitly linked to airlines.
Four other men were found not guilty of the airline plot, and either not guilty or "no verdict" on the murder conspiracy charge. They are Ibrahim Savant, Arafat Khan, Waheed Zaman and Donald Douglas Stewart-Whyte.
Britain's Crown Prosecution Service said the group planned a series of coordinated suicide attacks on planes bound for the United States and Canada in 2006. The prosecution said the plot could have been pulled off.
British authorities said there was an al Qaeda link to the plot, which they called "an ingenious plan to blow up aeroplanes with liquid explosives."
After the verdict was delivered on Monday Home Secretary Alan Johnson said: "I am pleased that the jury has recognized that there was a plot to bomb transatlantic flights and that three people have been convicted of that plot.
"This case reaffirms that we face a real and serious threat from terrorism. This was a particularly complex and daring plot which would have led to a terrible attack resulting in major loss of life.
"The police, security services and CPS have done an excellent job in bringing these people to justice. This was the largest ever counter terrorism operation in the UK and I cannot thank enough those involved for their professionalism and dedication in thwarting this attack and saving thousands of lives."
The men were arrested in August 2006 when police thought the plan was ready to be put into action.
Ali, Sarwar and Hussain had pleaded guilty in their first trial to a lesser charge of conspiring to cause explosions.

They said they were planning to detonate bombs at key sites as part of a political statement, not with the intent to kill anyone. They maintained that they were not guilty of plotting to blow up planes over the Atlantic Ocean.
During the first trial, prosecutors showed the jury an experiment which they said showed the men could have brought down a plane in mid-flight using a soft-drink-size bottle filled with the kind of liquid explosives the men allegedly planned to use.
E-mail to a friend

CNN's Ashleigh Nghiem and International Security Correspondent Paula Newton contributed to this report.
All About Terrorism