LONDON, England (CNN) -- British candy maker Cadbury has rejected a £10.2 billion ($16.7 billion) offer from U.S. food giant Kraft to merge the companies, according to a statement released Monday.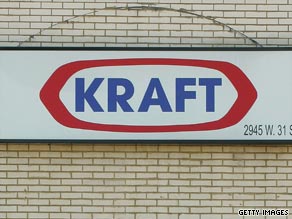 Kraft said will continue to pursue a merger despite Cadbury rejecting their offer.
"Kraft Foods Inc. today announces that it has made a proposal to the Board of Cadbury plc to combine the two companies," the Kraft statement said. "The Board of Cadbury has rejected this proposal."
The confectioner said it prefers to operate alone at this point.
"The Board is confident in Cadbury's standalone strategy and growth prospects as a result of its strong brands, unique category and geographic scope," Cadbury said in a statement that didn't shut the door on merger talks. "The Board believes that the proposal fundamentally undervalues the group and its prospects."
Kraft said it will continue to pursue a merger.
"Kraft Foods is committed to working toward a recommended transaction and to maintaining a constructive dialogue, and is announcing this proposal as a means to encourage and further that process," Kraft said.
In laying out its case for the merger, Kraft said a union of the companies would create a company with approximately $50 billion in revenues that would be "a global powerhouse in snacks, confectionery and quick meals."
E-mail to a friend