LONDON, England (CNN) -- British Prime Minister Gordon Brown announced Sunday that his government will support IRA victims in seeking compensation from Libya, in a move conservatives called a "U-turn" from his earlier position.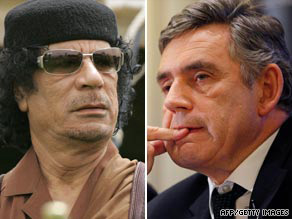 Brown, right, will support asking Gadhafi's Libyan regime to pay compensation to IRA bomb victims.
"I desperately care about what has happened to those people who have been victims of IRA terrorism," Brown said at a Sunday news conference in Germany.
"We will appoint dedicated officers in the Foreign Office and our embassy in Tripoli [who] will accompany the families' representatives to meetings with the Libyan government to negotiate compensation," he added. "And the first of these meetings is being held in the next few weeks."
Libya is accused of supplying explosives to the IRA for terrorist attacks.
Previously secret documents released Sunday by Brown's office show that the prime minister had argued, "Libya has made it clear to us that they consider this matter closed."
In the letters written to Jason McCue, an attorney representing victims of bombings by the Irish Republican Army, Brown also argued that pushing Libya "would entail substantial risks." British media highlighted a section in which Brown wrote that it would "not be appropriate" to have direct talks with Libya on the matter.
In the letters, Brown denied being reluctant to anger Libya for fear Britain would lose out on oil deals -- an allegation made by the Sunday Times newspaper and by McCue.
Don't Miss
In the two letters, written in September and October, Brown cited Libya's about-face on terrorism as the key factor.
Facing outrage in Britain over the issue, Brown said Sunday, "I desperately care about what has happened to those people who have been victims of IRA terrorism."
Speaking in Berlin, Germany, with German Chancellor Angela Merkel, Brown said he would provide Foreign Office staff to assist the IRA attack victims when they travel to Libya in the next few weeks to seek direct talks with Libyan leader, Col. Moammar Gadhafi.
Successive governments have raised the issue of Libyan support for the IRA, Brown said, but the British government determined the most effective means of seeking victims' compensation was through supporting families in their legal battle, not through direct negotiations with Libya.
A foreign affairs spokesman for Britain's opposition Conservative Party said in a statement that Brown's comments were "a stunning admission that the government has failed to support the families of the victims of IRA terrorism in their pursuit of compensation from Libya."
"This U-turn comes only after today's reports that Gordon Brown was personally involved in a decision not to engage Libya on the issue," said William Hague in the statement. "The British government should have provided active support as a matter of course, not as a result of public pressure."
On Saturday, a top government minister said oil and trade were considered at one point as factors in the release of the Lockerbie bomber.
And Gadhafi's son, who was involved in negotiating accords between the two nations, told CNN that Libya pressed the British government to include the convicted terrorist in a 2007 prisoner release agreement that was tied to trade deals.
Ultimately, convicted bomber Abdelbeset Ali Mohmed al Megrahi was released on compassionate grounds because he is dying of cancer, a decision that Scottish, British and Libyan officials have said was not linked to oil or trade.
In an interview published Saturday in The Daily Telegraph, British Justice Secretary Jack Straw said trade and the interests of oil giant BP were factors in the prisoner transfer agreement.
"Yes, (it was) a very big part of that," Straw told the paper. "I'm unapologetic about that. ... Libya was a rogue state. We wanted to bring it back into the fold. And yes, that included trade because trade is an essential part of it and subsequently there was the BP deal."
Straw's adviser said Saturday that Straw's quotes were accurate, but he emphasized that al Megrahi was not released under the terms of that deal.
Scottish Justice Secretary Kenny MacAskill decided last month to release al Megrahi, who was serving a life sentence for the 1988 bombing of Pan Am flight 103 over Lockerbie, Scotland.
The bombing killed 270 people and was the world's deadliest act of terrorism until the September 11, 2001, attacks on the United States, according to the FBI.
Brown insisted Wednesday that there was no secret arrangement to release al Megrahi in exchange for oil deals.
"On our part, there was no conspiracy, no cover-up, no double-dealing, no deal on oil, no attempt to instruct Scottish ministers, no private assurances by me to (Moammar) Gadhafi," he said.

Gadhafi's son Saif al-Islam Gadhafi accompanied al Megrahi back to Libya last month.
"The decision was based on compassionate grounds, not because of business deals," Gadhafi said. "It was obvious. The guy is sick, seriously sick. He has cancer and because of that they made the decision and I think it was the right decision."
E-mail to a friend

CNN Senior International Correspondent Nic Robertson in Tripoli, Libya, contributed to this report.
All About Pan American Airways • Lockerbie • Libya