LONDON, England (CNN) -- Success in Afghanistan will be measured by progress in training local military and police to take over their own security, British Prime Minister Gordon Brown said Friday.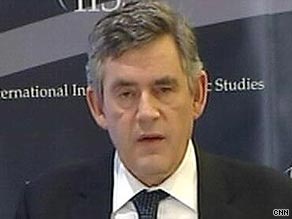 British PM Gordon Brown defended the country's policy in Afghanistan in a press conference, September 4, 2009.
"We will have succeeded when our troops are coming home because the Afghans are doing the job themselves," he said in a speech defending Britain's strategy in Afghanistan.
In the past four months, more than 50 British service members have been killed in Afghanistan -- 42 of them since the start of July. The four months have been some of the most fatal for British troops in Afghanistan, leading to increased questions about the United Kingdom's role in the country.
Brown's speech came a day after Eric Joyce, a ministerial aide to Defense Secretary Bob Ainsworth, resigned, saying the government needs to start winding down its war effort in Afghanistan.
Joyce, who is also a member of Parliament, complained that Britain is "punching above our weight" in Afghanistan, with many of its allies doing "far too little."
In his speech Friday, Brown called on all members of the coalition in Afghanistan to play their part and share the burden of protecting the country.
"This remains, above all, an international mission," he said.
It is important that Britain and the 41 other coalition members continue the fight in Afghanistan because otherwise the area will descend into a base for terrorist groups, he said.
"If the insurgency succeeds in Afghanistan, al Qaeda and other terrorist groups will once again be able to use it as a sanctuary to train, plan, and launch attacks on Britain and the rest of the world," Brown said.
"The advice I receive from the security agencies is clear: The sustained pressure on al Qaeda in Pakistan, combined with military action in Afghanistan, is having a suppressive effect on al Qaeda's ability to operate effectively in the region."
Training local staff to start taking on their own security responsibilities remains the ultimate goal of Britain's efforts in Afghanistan, Brown said.
"The Afghan army and police are not yet ready to take on the Taliban purely by themselves," he said. "That is why the international coalition must maintain its military presence.
"I believe that most people in Britain must accept this, but I know they are concerned about how long international forces, and British forces in particular, will have to stay."
The prime minister announced new funding, equipment, and forces for the country to help ensure success.
The funding includes 20 million pounds ($32.7 million) just for Helmand province, for stabilization and security, including police training and "basic justice."
Britain is sending an extra 200 specialist forces to Afghanistan to help counter improvised explosive devices, or roadside bombs, which are a major threat to security and result in many of the casualties among coalition troops, Brown said.
Those 200 troops will not only find and defuse the bombs, but also will try to identify and target those who lay them, he said.
Another 20 mine-protected patrol vehicles also will be going into service in Afghanistan, he said.

Military pay also is increasing -- more than doubling, the prime minister said -- from around 180,000 pounds ($294,000) per soldier to 390,000 pounds ($637,000).
"So be in no doubt," Brown said. "We are giving our service men and women the additional resources they need to keep themselves safe, to fight and succeed in their operations, and to bring security to Afghanistan."
E-mail to a friend

All About Afghanistan • NATO