LONDON, England (CNN) -- Climate change activists were converging on the center of London on Wednesday for a week-long protest intended to highlight the dangers of economic growth on the environment.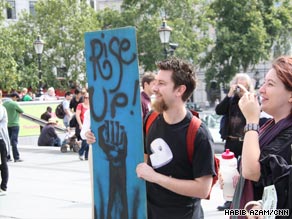 A climate protester holds a sign in the center of London.
The Camp for Climate Action said it expected about 1,000 people to descend on the location, which was kept a secret until the last moment. The group called on its supporters to gather at six London spots and be prepared to "swoop" onto the site when its location is announced.
Camp spokesman Peter McDonnell would not reveal the exact site in advance, saying only that protesters wanted to target the City of London, which is the financial district.
"We want to draw the links between the climate crisis and the financial crisis," he told CNN. "What we're saying is, London is the epicenter of an economic model where this obsession with year-upon-year economic growth is taking us to the edge of an ecological catastrophe."
The protesters plan to set up a campsite that will highlight sustainable living, McDonnell said. They also plan to hold dozens of workshops every day, teaching people everything from how to construct a wind turbine and build compost toilets to the basics of direct action and "alternative finance."
A blockade will be set up around the campsite in an effort to keep police out, he said.
Protesters know they are risking arrest, McDonnell said, but after criticism of the police handling of protests at the G-20 summit in London earlier this year, "we're hoping police will be taking a more reasonable approach."
A spokesman for London's Metropolitan Police said that with no location for the protest announced in advance, it was difficult to discuss policing options.
E-mail to a friend