From Maxim Tkachenko
CNN






MOSCOW, Russia (CNN) -- Russian President Dmitry Medvedev sacked the head of Ingushetia's police after a suicide bomber killed at least 19 people Monday.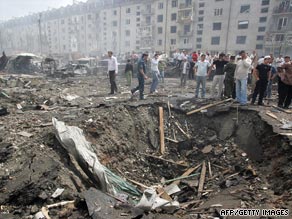 People stand near a crater caused by the blast in Nazran.
"Today's terror attack in Nazran could have been prevented," Medvedev said on Russian State TV, and "this indicates, among other things, that the Ingush law enforcement agencies had not been working well enough."
"The police failed even to protect itself," he said.
The suicide bombing, outside a police headquarters in Nazran in the Russian republic of Ingushetia, killed at least 19 and injured about 60 people, including 10 children, the Investigation Committee of the Russian Prosecutor's Office told CNN.
There were conflicting reports about the death toll, however. The duty officer at the Ingushetia branch of the Russian ministry for Emergency Situations had higher numbers.
"According to our information, 20 were killed and 118 were hurt, 65 of whom were hospitalized, others managed without doctor's assistance," he said.
Both sources, however, said those numbers might not be final because fire brigades and rescue workers were still cleaning up debris and extinguishing pockets of fire at the exploded building.
"The fire virtually destroyed the building. There may still be people in the debris," an emergencies ministry spokesman told RIA Novosti.
"At about 9 a.m. local [1 a.m. ET] a suicide bomber driving a truck stuffed with explosives rammed into the gate of the police station," Kaloi Akhilgov, a spokesman for Ingushetia's president, told CNN. "It was a powerful explosion. Windows and balconies were broken in several residential buildings around the police station, injuring many people."
Russian State TV reported the explosives were equivalent to about 200 kilograms (441 pounds) of TNT, citing the Investigation Committee of the Russian Prosecutor's Office.
Ingushetia is a small Russian republic bordering Chechnya in the North Caucasus, just north of Georgia.
Ingushetia's president called the attack an attempt by Islamist rebels to undermine stability in the republic.
"There is no doubt that militants did that to boost their significance. It was an attempt to undermine stability and to sow panic," said President Yunus-Bek Yevkurov, who ordered tightened security around local government buildings and declared a three-day mourning period for blast victims.
In the United States, President Obama offered his condolences to the victims and to the Russian government.
"This latest attack highlights the concerning increase in violence in the region affecting officials and civilians alike," he said in a statement.
In Moscow, Medvedev ordered Interior Minister Rashid Nurgaliyev to take steps to protect police in Ingushetia, the Kremlin press office reported. He also offered condolences to the families of the bombing victims.
Yevkurov is being treated at a rehabilitation center near Moscow following an assassination attempt in June. He suffered a severe brain concussion, fractured ribs and a ruptured liver.
In that attack, an Islamist suicide bomber rammed into his motorcade in Ingushetia. His driver and bodyguard were killed.
An impoverished province of mostly Muslims, Ingushetia has suffered for almost a decade from overflowing unrest in neighboring Chechnya.
It is battling a low-level insurgency with Islamist rebels who launch frequent attacks on Russian servicemen and law enforcement officials.
In response, Russia has launched a counterinsurgency campaign that has been criticized by human rights group for abuses such as arbitrary detentions and extra-judicial executions.
E-mail to a friend