KABUL, Afghanistan (CNN) -- Two soldiers wounded by explosions in southern Afghanistan have died , bringing to 201 the number of British troops killed in the country since 2001, officials said Sunday.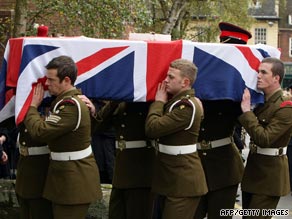 A casket containing the body of a British serviceman is carried at a ceremony in the UK.
The first soldier, who was wounded while on car patrol in Helmand province on Thursday, died at a hospital in Britain, the Ministry of Defence said Sunday. He was a member of the 2nd Battalion the Royal Welsh.
The second soldier was with the 2nd Battalion the Royal Regiment of Fusiliers. He was killed while on foot patrol in Helmand, officials said.
Defence Secretary Bob Ainsworth called the number a "grim" milestone.
"We mourn every single one of them, as we mourn the lives of those from our partners within NATO and the Afghan national Security Forces," Ainsworth said.
Prime Minister Gordon Brown also pledged to push on with the "vital" mission, calling the death toll "deeply tragic".
"In these moments of sorrow and sadness, we must never forget why we are in Afghanistan and why people are making the sacrifice that they are making," he said, according to the UK Press Association.
"Three-quarters of the terrorist plots that hit Britain derive from the mountain areas of Pakistan and Afghanistan and it is to make Britain safe and the rest of the world safe that we must make sure we honor our commitment to maintain a stable Afghanistan."
British troops have been in Afghanistan since the U.S.-led invasion started in 2001.
This summer has been the bloodiest in the country, particularly in troubled Helmand province, where United States, British and Afghan troops have been fighting Taliban militants. Security in the area has been bolstered ahead of the August 20 presidential election.
E-mail to a friend