LONDON, England (CNN) -- A Libyan man convicted in the 1988 bombing of Pan Am Flight 103 over Lockerbie, Scotland, is dropping his appeal, the Scottish Court Service said Friday.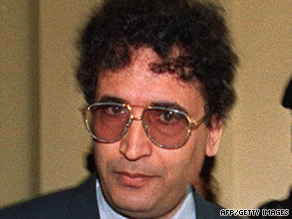 Convicted bomber Abdelbeset Ali Mohmed al Megrahi, pictured in 1992, has terminal prostate cancer.
The move may be part of a deal convicted bomber Abdelbeset Ali Mohmed al Megrahi is seeking with Scottish authorities to be released on compassionate grounds.
Al Megrahi, 57, is suffering from terminal prostate cancer. He is serving a life sentence for the bombing that killed 270 people.
A compassionate release could allow al Megrahi, who has maintained his innocence, to return to his native Libya.
The Scottish Court Service said al Megrahi has lodged a "minute of abandonment" with the court, which is a legal move to drop an appeal. The court will hold a hearing Tuesday to consider it, spokeswoman Elizabeth Cutting told CNN.
The Pan Am flight exploded December 21, 1988, as it flew over Scotland on its way from London to New York. All 259 people aboard the plane died along with 11 Scots on the ground.
A Scottish court ruled in 2003 that al Megrahi must serve at least 27 years of his sentence before becoming eligible for parole.
U.S. Secretary of State Hillary Clinton called Scottish Justice Minister Kenny MacAskill in the past day and "expressed strongly the United States' view that Ali Mohmed Al Megrahi should serve out the entirety of his sentence in Scotland for his part in the bombing of the Pan Am 103 flight," Assistant Secretary of State P.J. Crowley told reporters.
Families of the Lockerbie victims are divided on whether al Megrahi should ever be released.
"He's not going to get forgiveness from me, and as far as I'm concerned, he should die in prison and his soul rot in hell," said Susan Cohen, who lost her only child, Theodora, 20, in the attack.
The United States has made it clear to the British government and others that it believes al Megrahi should spend the rest of his time in jail, the U.S. State Department said Thursday.
Other victims' relatives question whether al Megrahi should have been convicted.
"As a man dying from cancer, away from his family and away from his country, I think that reasonable humanity says he should be transferred home as soon as possible," said Jim Swire, who lost his daughter in the bombing.
Al Megrahi was convicted in 2001 after the prosecution argued he had placed the bomb, hidden in a suitcase, on a flight from Malta to Frankfurt, Germany.
In Germany, the bomb was transferred onto the Pan Am plane that went first to London's Heathrow Airport and then was to continue to New York, prosecutors said.
Another man -- Al-Amin Khalifa Fahima -- also was tried in the bombing but was acquitted.
The prosecution maintained al Megrahi, who worked at the Malta airport, was an agent for the Libyan intelligence services and had been seen buying clothes that were in the suitcase that contained the bomb.
Libya has formally accepted responsibility for the bombing, though Libyan leader Moammar Gadhafi later denied any culpability.
After al Megrahi lodged the appeal of his conviction, a five-judge review began examining evidence for the court to consider.
New evidence uncovered during the commission's investigation and other evidence not submitted at al Megrahi's original trial led the commission to believe that he may have suffered a miscarriage of justice, commission chairman Graham Forbes has said.
While the commission has not outlined all six grounds for appeal, it did identify two in a June 2007 news release.
The first is a finding by the commission that "there is no reasonable basis" for the trial court's conclusion that al Megrahi purchased the clothes in Malta on the day alleged. It said evidence not heard at trial indicates the clothes were purchased when al Megrahi was not in Malta.
Also not heard at trial, the commission said, was evidence that the clothes shop owner had seen al Megrahi's picture in a magazine article about Lockerbie days before he picked the defendant out of a lineup.
At trial, clothes shop owner Anthony Gauci said the purchaser of the clothes resembled al Megrahi "a lot."
E-mail to a friend

All About Libya • Pan American Airways