BERLIN, Germany (CNN) -- A German court has convicted a former army officer of 10 counts of murder in what could be one of the last trials of Nazi-era crimes.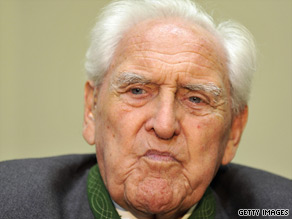 Josef Scheungraber was found guilty of giving the order to kill 10 Italians in 1944.
Munich's state court found 90-year-old Josef Scheungraber guilty of giving the order to kill 10 Italian civilians in the central Italian town of Falzano di Cortona in 1944.
The court also convicted Scheungraber of attempted murder, and acquitted him of four murder counts.
He was sentenced to life in prison. The verdict is subject to appeal, but it was not immediately clear whether Scheungraber planned to appeal.
Scheungraber served in the Wehrmacht, the German army during World War II. He was 25 at the time of the crime and was the company commander of the unit involved.
After two soldiers from the unit were found dead, Scheungraber gave the order to capture and kill any male civilians his soldiers came upon as a punitive measure, the court found.
Scheungraber's orders pertained to male civilians of any age and who were uninvolved in the conflict, the court found.
The orders had the "basest motivations" and were carried out through revenge, rage, and hate, the court said.
"This behavior is on the lowest moral level," the court said in a statement after the verdict.
The conviction of Scheungraber comes a month after alleged Nazi camp guard John Demjanjuk was formally charged with being an accessory to about 27,900 murders during World War II.
Demjanjuk, 89, was deported in May by the United States to Germany, where he was wanted for his alleged involvement in killings at Sobibor, a Nazi death camp in Poland.
A native Ukrainian, Demjanjuk lived for years as an auto worker in Cleveland, Ohio. He denies any role in the Holocaust.
E-mail to a friend