(CNN) -- NATO will stay in Afghanistan "for as long as it takes," the military alliance's new leader said in Brussels, Belgium, Monday.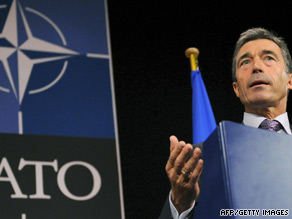 Anders Fogh Rasmussen became NATO secretary general on August 1.
"We will support the Afghan people for as long as it takes -- let me repeat that, for as long as it takes," said Anders Fogh Rasmussen, the former Danish prime minister who became secretary general on August 1.
He said success in the country was NATO's top priority "to help prevent Afghanistan from becoming again the Grand Central Station of international terrorism."
"Anyone who believes in basic human rights, including women's rights, should support this mission," he said.
But he said the country must take "lead responsibility" for its own security over the course of his five-year term.
NATO's International Security Assistance Force in Afghanistan has taken a battering in recent months, suffering record casualties as it tries to dislodge Taliban fighters from areas of the country where they hold sway.
At least nine NATO troops died in Afghanistan over the weekend, a bloody start to August after at least 75 troops were killed there in July.
Rasmussen, who replaces Jaap de Hoop Scheffer at NATO's helm, said relations with Russia were his second priority.
Ties between the two have been strained over the past year, with NATO temporarily walking out of a joint Russia-NATO council in the wake of Russia's invasion of Georgia, its southern neighbor, last summer.
"There is clearly scope for us to work together, on counter-terrorism, on Afghanistan, on piracy, on non-proliferation, and many other areas as well," Rasmussen said Monday.
But, he said, he was "not a dreamer."
"It is obvious that there will be fundamental issues on which we disagree. We have to insist, for example, that Russia fully complies with its international obligations, including respecting the territorial integrity and political freedom of its neighbors," he said, an apparent reference to Georgia.
He also proposed a standing anti-piracy role for NATO, "with the capabilities, legal arrangements and force generation in place to make it happen."
And he asked for public participation in devising a new "Strategic Concept" for NATO, as the alliance calls its broad mission statement.
"I want to hear the views of the public on what NATO should be and do in future. There is, as of now, a forum on the Web site where anyone can post their views on how NATO should evolve," he said.
He has tapped former U.S. Secretary of State Madeleine Albright to chair a group of 12 experts working on the Strategic Concept, he announced. The experts will consult widely, then make recommendations to him, he said.
E-mail to a friend