By Alanne K. Orjoux
CNN





(CNN) -- A 22-year-old man from Pakistan hopes to soon swim the English Channel with an American friend -- but first he's got to navigate the currents of bureaucracy.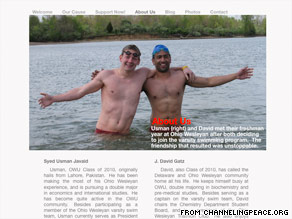 College teammates David Gatz (left) and Usman Javaid want to swim the English Channel for charity.
Usman Javaid, an Ohio college student who has won national swimming titles in his native Pakistan, wants to swim the channel with his best friend, David Gatz, a fellow member of the swim team at Ohio Wesleyan University in Delaware, Ohio.
They want to honor their international friendship by working together to accomplish a great feat: a relay across the English Channel. They also hope to raise money for charity.
"With teamwork and cooperation you can tackle even the toughest of challenges," Javaid told CNN in a phone interview Wednesday from Islamabad, Pakistan.
Yet the British government has denied Javaid's request for the visa that would let him enter the country.
British authorities say they can't grant a visa because they have questions about Javaid's student status, the young man said.
"They weren't satisfied I was going to Britain for the stated purpose," he said.
Don't Miss
Javaid said his passport contains a valid student visa for the United States and he sent documentation from the Channel Swimming Association with his visa application to prove he is scheduled to do the swim.
The United Kingdom Border Agency told CNN in a written statement that "all visa applications are considered on their individual merits, taking into account all the information provided."
"Where an applicant fails to demonstrate they meet the relevant rules, their application will be refused," the statement said.
The agency noted that anyone who is refused can reapply with additional information.
Mark Cooper, the director of marketing and communication at Ohio Wesleyan University, said British authorities have not contacted the university to ask about Javaid's student status.
"We did send ... documentation to [British authorities] to follow up" after Javaid's application was denied, he said.
Javaid has since applied to the British high commissioner in Islamabad for an emergency visa.
Meanwhile, Gatz and the university's head swim coach, Dick Hawes, are waiting in Dover, England, hoping things will work out so the men can try to accomplish their goal.
The Channel Swimming Association has granted them permission to try their crossing between July 29 and August 6, Javaid said. The association determines such "swim windows" after considering the expected tides and the schedules of pilot boats, which accompany the swimmers.
The association sent a letter Thursday to the British high commissioner in Pakistan to confirm Javaid's mission, said Joan Metcalfe, the association's chairwoman.
As the clock ticks, Gatz remains in Dover, where he passes the time by training in the channel.
"There is some frustration," he said Thursday, "but we're also optimistic."
Gatz is the captain of Ohio Wesleyan University's varsity swim team. He swam twice for the university at the NCAA national championship meet and holds numerous records.
Javaid is a gold medalist on the Pakistani national swim team and represented his country at the South Asian Federation Games.
Their coach said he's proud of the pair, no matter the outcome of their attempt.
"I think it's great. It shows so much maturity on their part -- first, to take on such a large endeavor, but it also speaks so much about their friendship," Hawes said.
Their relationship reflects the unity of the entire swim team at the school, he said.
"This is an international family," the coach said of his swimmers. "It's a phenomenal environment. This has just been such a great experience."
As they work to accomplish their goal, Gatz and Javaid also are accepting donations for Doctors Without Borders, an international medical humanitarian organization also known by its French name, Medecins Sans Frontieres.
Gatz, who is double-majoring in biochemistry and pre-med, said the idea came as they followed news reports of Pakistan's campaign against the Taliban this year, which displaced thousands of civilians in the country's northwest.
"We wanted to donate to an organization that was helping people there," he explained.
Javaid added Thursday, "That was a big reason we chose Doctors Without Borders, because there are a lot of people suffering in that area and they are assisting them."
Some of the donations will cover costs associated with their anticipated channel swim, he added.
But even if they don't get to do their relay, Javaid said, their effort is still worthwhile.
"Even if my visa doesn't go through, we'll continue with Channeling Peace," he vowed, referring to the organization they set up for their effort.
"Even if I have to swim in a lake in Pakistan while David swims in the English Channel, it's still a powerful symbol," Javaid said.
"Symbols gather power not from the act itself but from the people who are supporting them," he said. "A lot of people around the world are supporting us and our message. As long as they support it in their hearts and minds, we have been successful."
E-mail to a friend

All About United Kingdom • Pakistan • Médecins Sans Frontières