By Reed Langton-Yanowitz
For CNN





LONDON, England (CNN) -- Imagine a job where causing mayhem and spooking children is not frowned upon, but rather rewarded with a yearly salary of £50,000 ($82,000).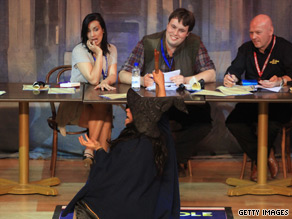 Aspiring witches audition for the job Tuesday at Wookey Hole Caves in England.
For a woman who would only identify herself as "Carla Calamity," those will likely be part of her duties after she won the Wookey witch audition in western England on Tuesday.
Carla first heard about the audition when her answering machine was flooded by her friends telling her that she would make the perfect witch, she told CNN in a telephone interview.
While some might have been put off by this, she was glad to hear about the job and leapt at the opportunity, Carla said.
The woman -- identified by The Times of London as Carole Bohanan -- was one of 300 to audition for the privilege of portraying the historical witch that haunted the Wookey Hole Caves in Somerset during the Dark Ages.
Today, the caves are part of a tourist attraction that includes rides, a circus, and a theme park.
At the audition, Carla was given one minute in front of a large crowd to give her best cackle and leave the nine judges spellbound.
Organizers said she clinched the position by tossing candy snakes to the judges and reciting an original poem. The poem recalled how the Wookey witch was turned to stone when a local abbot threw holy water on her.
Organizers say her competition was diverse, with costumes ranging from frightening to comical. The contestants included men, women and even a couple with a baby.
Upon winning, Carla said she felt "on top of the moon" and had few reservations about leaving her job as a real estate agent. "Don't you just think it's the natural progression in the job career?" she said. "You need a little bit of witches' skills to be selling houses" the way the market is now, she said.

After her first day of work Wednesday, Carla said she was looking forward to many more days of making children laugh. Although her official contract only lasts a year, she said she will be happy to stay "as long as they want me."
"What other job can you be mischievous and naughty and be paid to be it?"
E-mail to a friend