(CNN) -- French President Nicolas Sarkozy was released from hospital Monday morning following a night spent under observation after he collapsed while jogging in woodlands near Paris.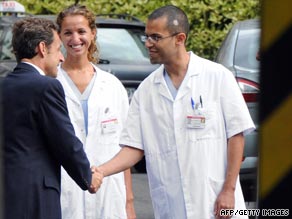 French President Nicolas Sarkozy shakes hands with medical staff as he leaves hospital Monday.
Sarkozy left hospital arm-in-arm with his wife, Carla Bruni, shaking hands with medical staff before being driven away in an official car, according to Agence France-Presse.
The 54-year-old fainted while exercising with bodyguards in hot sunshine near his weekend home close to the Palace of Versailles -- though officials stressed he was never unconscious.
A witness told AFP that Bruni arrived at the scene shortly afterwards on a police scooter. Sarkozy was then flown to the Val-de-Grace military hospital by helicopter.
Officials said Sunday that Sarkozy's condition was due to a "minor" nerve condition known as a vasovagal syncope, which affects the flow of blood to the heart causing low blood pressure and faintness, according to AFP.

Watch more on Sarkozy's trip to hospital »
In a statement, the hospital said blood tests, brain scans and an electrocardiogram had detected nothing abnormal. It said Sarkozy had been urged to rest for several days but that no medical treatment had been prescribed.
Sarkozy was due to visit the abbey of Mont Saint-Michel in Normandy on Tuesday but the appointment has been cancelled, according to the French presidency Web site. Sarkozy is expected to chair a meeting of ministers on Wednesday morning before going on a three-week summer vacation in the south of France.
Since becoming president in 2007, Sarkozy, who is often photographed running and cycling, has cultivated an image as a healthy and energetic president -- in contrast with previous incumbents of the Elysee Palace such as Jacques Chirac and Francois Mitterand who governed into their 70s.
Don't Miss
Sarkozy also vowed to make public his annual medical check-ups, in contrast to previous presidents whose states of health were closely guarded secrets.
Mitterrand privately battled prostate cancer throughout his presidency from 1981 to 1995, undergoing several operations and eventually succumbing to the disease a year after leaving office at the age of 79.

"President Sarkozy came to office saying he was going to be more transparent in office and so far he seems to be getting reasonably good marks on that," said CNN's Paris Correspondent Jim Bittermann.
"We certainly saw the president come out today smiling and apparently in good health. The French public appears to have been kept better informed than on previous occasions."
E-mail to a friend

CNN's Jim Bittermann contributed to this report.
All About Nicolas Sarkozy