LONDON, England (CNN) -- London's Gatwick Airport was briefly closed Friday after a jet made an emergency landing, officials said.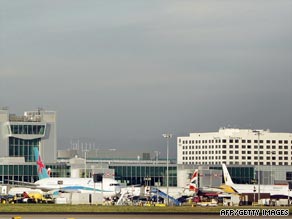 Gatwick Airport was briefly closed while a Flybe flight was involved in an emergency landing.
Flybe flight BE 1432 going from Paris, France, to Cardiff, Wales, was diverted to Gatwick at 12:26 p.m. (7:26 a.m. ET) following a suspected technical fault, the airline said.
Emergency vehicles were deployed as a precaution, the airline said. All 46 passengers left the plane safely, it said, and the airport said there were no injuries.
Gatwick closed its only runway for just over half an hour to allow the plane to land, the spokesman said.
It had reopened by the early afternoon and Gatwick was fully operational, the spokesman said. Gatwick is London's second-largest airport.
It was not clear whether there were any delays as a result of the incident.
British-based Flybe says it is Europe's biggest regional airline, flying to 13 countries on 190 routes.
E-mail to a friend

CNN's Ashleigh Nghiem contributed to this report.