By Jill Dougherty
CNN Foreign Affairs Correspondent





MOSCOW, Russia (CNN) -- It was a catchy phrase when U.S. Vice-President Joe Biden first used it in February: "Press the reset button." A month later U.S. Secretary of State Hillary Clinton handed her counterpart, Russian Foreign Minister Sergey Lavrov, a red plastic "reset" button. The Russian translation printed on top turned out to be wrong, but by that time Russians were using the phrase, too.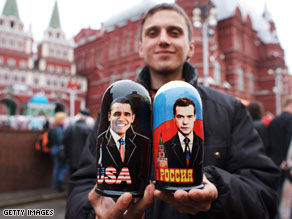 A Moscow merchant displays Russian nesting dolls painted with portraits of Barack Obama and Dmitry Medvedev.
The only problem was no one seemed to know precisely what "resetting" the U.S. relationship really meant. During the Cold War, if you talked about Russian and U.S. presidents pressing buttons, it usually meant potentially blowing up the world with nuclear weapons.
Now, at this two-day summit in Moscow between presidents Barack Obama and Dmitry Medvedev which begins Monday, we'll get to see whether this "reset" button actually sets a new, cooperative relationship in motion or whether it's short-circuited.
This is Obama's first visit to Russia but he got off to a good start with President Medvedev when they met in London in April at the G-20 summit. Here in Moscow, U.S. officials say they men will spend a total of four hours with each other in direct talks over the two-day visit. They will be wearing headphones with simultaneous translation in order not to waste time with tedious consecutive translation.
The two have some things in common: both are lawyers. Both represent a new generation of leaders; Obama is 47, Medvedev 43. Both say they want, as President Medvedev put it in a video blog released just before the summit, to build "more effective, reliable, and ultimately more modern relations."
But a key issue they will tackle at the summit is a throw-back to the Cold War: negotiating what's called a "follow-on" agreement to replace the 1991 START I arms control treaty which expires December 5. Negotiators have been working intensively and will report to their respective presidents on progress so far. The presidents are expected to direct them to complete the deal by the end of the year.
Both men have agreed on an ultimate goal of a nuclear-free world. No one realistically thinks this will happen anytime soon but reducing the number of nuclear warheads from the levels allowed in the original START agreement is a step in that direction. That treaty limited each side to 6,000 offensively deployed warheads on 1,600 "delivery vehicles" (bombers, land and sea-based missiles.) That number was reduced by the 2002 SORT treaty to 1,700-2,200 warheads.
The follow-on agreement being negotiated will have rules for verification and will limit the number of delivery vehicles, something the Bush administration was adamantly opposed to.
The Russian side insists on linking the issue of offensive arms control to the issue of a missile defense system that the United States announced it wants to build in Poland and the Czech Republic to protect against missiles from "rogue states." Obama inherited those plans from Bush.
He has ordered a review and so far has made no decision, and U.S. officials say they are not willing to get into bartering over the two issues. Officials close to the negotiations, however, say this tiff with Moscow does not mean the Russians would stop negotiating the follow-on START agreement, although they might delay implementing the deal until Obama makes a decision on the missile defense system. If all of this sounds complex it is -- and it will give Obama his first chance on an international trip to get into some of the nitty-gritty of negotiations.
On Iran, Obama wants Medvedev to ramp up his support for international pressure on Tehran to end its nuclear program. The Russians don't see eye-to-eye with the U.S. on the seriousness of the Iranian threat and the two sides are considering creating a joint group of U.S. and Russian military experts to assess it.
The American president also wants Russia's help on the war in Afghanistan and, on the eve of the summit, the Russian president gave it to him: agreeing to allow transit of U.S. military equipment across Russian territory into Afghanistan. The deal is expected to be announced at the summit.

While in Moscow, Obama will deliver a major speech on U.S.-Russian relations. His aides say it is one of four key Obama speeches which, taken as a whole, will lay out, as one official put it, the president's "foreign policy manifesto:" Prague, Cairo, Moscow and Africa.
In Russian, "reset" also means "re-boot," as in "re-boot" a computer. The two young presidents have a chance to "re-boot" their relationship. They should take it -- before the U.S.-Russia relationship "crashes" again.
E-mail to a friend

All About Barack Obama • Dmitry Medvedev