LONDON, England (CNN) -- Six people were killed, including three children, when a fire broke out in a high-rise apartment building in south London on Friday afternoon, officials said.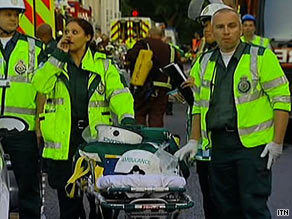 A 3-week-old and a 7-year-old died in the blaze, London Metropolitan Police say.
The fire started on the fourth floor at 4:30 p.m. then rapidly spread to the 11th floor, eventually engulfing 12 floors and gutting apartments along the way, fire officials said.
A 3-week-old, a 7-year-old and an unidentified woman were pronounced dead at a hospital, London Metropolitan Police said. Personnel declared three others dead at the scene: a 6-year-old, a woman in her 30s and an unidentified adult, police reported.
Firefighters rescued 30 people, 13 of whom were taken to a hospital, many suffering from smoke inhalation, the London Fire Brigade said. London police, however, reported that only 12 people were hurt.
One-hundred firefighters using 18 engines battled the blaze in the heavily populated Camberwell area of London, fire officials said. The high-density area is mostly residential, many with young children, reported CNN's Phil Black in London.
By 9 p.m., the blaze was under control but not extinguished, firefighters said.

Meanwhile, firefighters were searching the building for anyone who might be trapped.
Firefighters have yet to begin an investigation into the cause of the fire, but it does not appear suspicious, according to the fire brigade.
E-mail to a friend