LONDON, England (CNN) -- British lawmakers Monday elected a new Speaker of the House of Commons Monday after scandal forced the previous speaker to resign last month.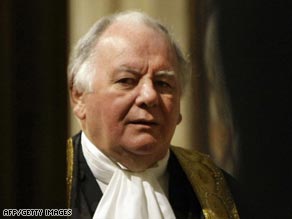 Michael Martin, the House of Commons Speaker, resigned following anger at lawmakers' expenses.
John Bercow got the nod after three rounds of voting by members of parliament whittled down the original field of 10 candidates.
Former Speaker Michael Martin announced a month ago he was resigning in the face of widespread public anger over expense claims by members of Parliament.
He is the first speaker to be forced out of office since 1695.
The speaker chairs debates in the House of Commons -- the UK Parliament's lower house -- and sees that elected members follow protocol. The speaker is chosen from one of the members of parliament, but in the role must be politically impartial.
Bercow will aim to restore public trust in parliament after revelations that some lawmakers claimed expenses for mortgages that had already been paid off or did not exist, and that claims had been filed for items as small as a box of matches and as grand as the cleaning out of a moat.

Watch more on Martin's resignation »
British police will investigate the alleged misuse of parliamentary expenses by "a small number" of lawmakers, London's Metropolitan Police said June 19.
More than a dozen members of parliament have promised to step down at the next election. The controversy also has forced Prime Minister Gordon Brown to reshuffle his Cabinet.
There is currently no external agency with authority over expenses; the Speaker's office regulates them.
Brown has announced plans for a comprehensive overhaul of the expenses system, but no changes have yet been made.
The decision to launch the police probe came after consideration by a joint panel of police and prosecutors, the Met said. The panel also is considering investigating "a small number" of other individuals, the police said.
The Daily Telegraph newspaper, which fueled the scandal by publishing leaked copies of lawmakers' expenses, said detectives are focusing on two members of the House of Commons who have been accused of claiming expenses for mortgages that didn't exist, and one member of the House of Lords, the upper non-elected house, who made dubious claims on a second home.
The British government last week published details of lawmakers' expense claims from the past four years, a month after the Telegraph began revealing them. But unlike the Telegraph, which published entire copies of certain expenses claims, the government released heavily redacted versions, with many key details blacked out.
Controversial claims detailed by the Telegraph included thousands of dollars' worth of interest on mortgages that had already been paid or that didn't exist; money spent to clean a moat on a country estate, and more than $1,000 spent on a small house for ducks.
Some lawmakers claimed the maximum monthly allowance for food, one claimed for dog food, and one claimed for Christmas decorations.

Watch how the rules have led to abuse »
While the scandal has snared lawmakers from all major parties in Parliament, it has particularly tarnished the reputations of several rising stars in the governing Lab our Party.
Shahid Malik stepped down from the Cabinet after questionable expenses claims that included nearly $5,000 for an in-home theater system. Brown reappointed him last week, though Malik now faces a parliamentary inquiry.
Another Cabinet minister, Kitty Ussher, resigned after the Telegraph reported that she designated her constituency home as her main residence for one month in 2007 to avoid paying about $30,000 in capital gains tax.

Parliament's release of the blacked-out expenses claims came after the Sunday Telegraph filed a freedom of information request. The official publication was moved forward after the Telegraph published its series of reports.
Many lawmakers defended their claims as being within the rules. But even where that was the case, the public criticized lawmakers for greed and for taking advantage.
E-mail to a friend