LONDON, England (CNN) -- A woman was trampled to death by cows while walking her dogs in northern England, police said Monday.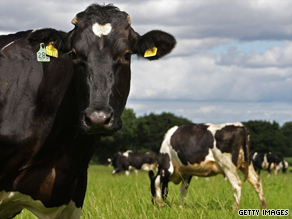 Experts say cows can become aggressive if they feel their calves are being threatened.
The 49-year-old died at the scene, said a press officer for North Yorkshire police, where the incident took place on Sunday just after noon local time (7 a.m. ET).
"She had two dogs with her," said the spokeswoman, who declined to be named in line with police policy. They were not on a leash, she added.
"We believe the cows may have gotten protective of their calves," she said.
The woman was alone when she was killed in Gayle, near Hawes in Wensleydale, she said.
Police and the National Farmers' Union both said it was very unusual for people to be killed by cows in Britain.
"There are perhaps a few incidents every year where people are injured by cattle," said Mike Thomas, a spokesman for the union. "People being killed by cattle is quite a rare occurrence."
But he said cows could become aggressive if they felt their calves were being threatened.
"If the dog is getting close to the animal, it's going to react in some kind of aggressive manner," he said.
People who feel threatened by cows while walking dogs should let their animals off the leash in order to put distance between themselves and their pets -- because cows are more likely to see dogs than people as a threat -- and move to the edge of the field, he said.
The average cow weighs about 1,760 pounds (800kg), he said.
E-mail to a friend