(CNN) -- Police in Belfast, Northern Ireland, were treating a new attack on a Romanian family as a hate crime after a series of similar incidents in the city, authorities said Thursday.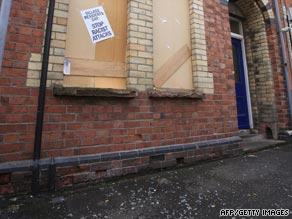 Broken glass lies next to a house in Belfast after an attack on a Romanian family.
The Romanian ambassador and consul-general traveled to Belfast Thursday for meetings with police, political officials and members of the Romanian community, the Romanian Embassy in London said.
The lord mayor of Belfast, who planned to meet with the Romanian officials, said she hoped to bring calm to the situation.
A window at the Romanian family's house in east Belfast was broken shortly after 11 p.m. (6 p.m. ET) Wednesday, Belfast police said. The family was home at the time but unhurt, police said.
Police appealed for information about what they called a "racist incident."
Tuesday night, more than 100 Romanians fled their homes and took refuge in a church after suffering attacks and threats. Windows of their homes in south Belfast were smashed, according to a spokeswoman for the Belfast City Church, which took the families in for the night.
The group included more than 40 children and a five-day-old baby, according to Vincent Parker, a member of the Sinn Fein political party who went to the church.
Belfast officials moved the families from the church to a secret, safe location while they work out a long-term solution to the situation, Lord Mayor Naomi Long told CNN.
"It's been very traumatic for them and what we're trying to do is create as stable a situation for them as we can in the medium term until the wider issue is resolved," Long said.
Don't Miss
The secret location is somewhere in south Belfast, where the families live, she said. They will stay there until local agencies can find a solution, which will take at least a week, she said.
The families are Roma Gypsies from Romania who have come to Ireland for work, Parker and the Embassy said. Most of them are employed in short-term contracts doing low-paid jobs like washing cars and selling newspapers, Parker said.
Some of the targeted families have asked to go back to Romania, the Embassy said. Long said she hoped to persuade the Romanian delegation to put off any such plans.
"We would be very concerned at the message that that would send out to those who undertake these attacks," she said. "We would be very concerned that it would give them some kind of succor to continue these attacks" on other communities.
The recent attacks have been directed not just at Romanians, but at other foreigners living in Belfast as well, the Romanian Embassy said.
Race-hate crime in south Belfast has increased in the past six months, Parker said. Polish and Portuguese workers have also been targeted.
Violence also broke out Monday at an anti-racism rally in support of Romanians in Belfast.
E-mail to a friend

All About Romania