LONDON, England (CNN) -- Anti-secrecy campaigners have criticized a decision by UK lawmakers to censor a report on their expenses claims, some of which was leaked earlier amid huge public outcry.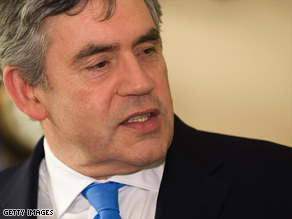 UK Prime Minister Gordon Brown has been rocked by numerous resignations recently.
The online publication on Thursday is the result of a newspaper filing a freedom of information request to see the claims by MPs, but some of the information is blacked out.
The redaction prompted criticism from campaigners seeking transparancy. "A great deal of information has been censored so today's move will do nothing to restore public trust -- it looks like a cover-up," Katherine Gundersen of the Campaign for Freedom of Information, told CNN.
"Far from drawing a line under the episode this will fuel further public anger."
Thursday's official release was also anti-climatic because the Daily Telegraph has been printing the expenses claims over the past month after obtaining a leaked copy.
The series of reports by the Telegraph created a scandal by revealing that many lawmakers had claimed excessively or bent the rules. The reports forced the government to release the claims Thursday instead of in July, as originally planned.
Controversial claims detailed by the newspaper included thousands of dollars' worth of interest on a mortgage that had already been paid, money spent to clean a moat on a country estate, and more than $1,000 spent on a small house for ducks.
Some lawmakers claimed the maximum monthly allowance for food; one claimed for dog food; one claimed for Christmas decorations; and another claimed nearly $5,000 for an in-home theater system.
Don't Miss
More than a dozen MPs caught up in the scandal have promised to step down in the next election. It also has forced Prime Minister Gordon Brown to reshuffle his Cabinet while polls show popular support for the rulingLabour Party at historic lows.
The latest casualty came Wednesday night with the resignation of Kitty Ussher, a member of Parliament who was also a Treasury minister. Her office in the northern England city of Burnley confirmed that she had handed Brown her resignation.
Ussher, considered a rising star in Labour, resigned after the Telegraph revealed that she designated her constituency home as her main residence for just one month in 2007 to avoid paying around $30,000 in capital gains tax.
Claims for allowances for second homes -- which most lawmakers have because they need to be in London for parliamentary business -- have been a big point of controversy for other lawmakers, too.
The Telegraph exposed how some lawmakers, like Ussher, "flipped" the designation of their main and second homes to avoid taxes or make a big allowance claims.
Many lawmakers defended their claims as being within the rules. But even where that was the case, the public criticized lawmakers for greed and for taking advantage.
The expenses cover lawmakers' claims from 2004 to 2008. More than 1 million documents and receipts were scanned electronically over the past year to make them available online, according to Parliament's Web site.
Unlike the information revealed by the Telegraph, the online documents are redacted, with key details blocked from view. Parliament said the edits were made to protect the security and privacy of lawmakers, their staff and third parties.

Among the details blacked out are the addresses of lawmakers' second homes. That makes it impossible to use the documents to find out whether lawmakers flipped homes or made other suspicious claims on those homes.
Deputy News Editor Ben Leapman of The Sunday Telegraph lodged his freedom of information request in January 2005 in order to see the receipts of lawmakers' second home spending, he has said.
E-mail to a friend

All About Gordon Brown • Jacqui Smith