LONDON, England (CNN) -- More than 100 Romanians fled their homes Tuesday night in Belfast, Northern Ireland, following what politicians called "racist attacks and intimidation."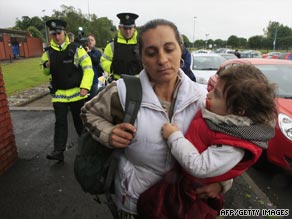 A Romanian woman and her child are escorted by police in Belfast on Wednesday.
"On Tuesday evening, when the Romanians saw their windows starting to be smashed, they felt the threats were very real and contacted the police," said Trish Morgan, the media relations manager at the Belfast City Church, which took them in.
A church member was advised by the police that "the situation was getting too tense," and that the group -- 113 people in all -- needed to find a safe place that could accommodate them quickly. The member contacted the church, and that's where they went, Morgan said.
The Romanians were "quite scared" upon arrival at the church but "relieved to be out of the situation," she added.
British Prime Minister Gordon Brown Wednesday condemned what one member of Parliament called "appalling racist attacks," and said he hoped the authorities would be able to "take all the action necessary to protect them."
Martin McGuinness, the deputy first minister of Northern Ireland -- a province of the United Kingdom -- visited the families on Wednesday, his party Sinn Fein announced.
"People are shocked and completely disgusted by this incident," he said in a statement "I came here this morning to show very clearly my commitment to facing up to any form of intimidation in our community, no matter where it may come from.
"I met with numerous families who are genuinely fearful for their lives and those of their families; I held a five-day-old baby girl in my arms today. She was born in Belfast and now forced to leave her home as a result of attacks by racist, criminal thugs," McGuinness said.
He was speaking at the O-Zone leisure center, where the families have moved because the space is larger than the church.
Race-hate crime in south Belfast has increased in the past six months, Sinn Fein equality and human rights expert Vincent Parker said.
The incident came only a day after violence broke out at an anti-racism rally in support of Romanians in Belfast.
Belfast Lord Mayor Naomi Long called Monday's scuffles "totally unacceptable."
"A small minority of people have sadly taken away from an event which had been organized by the local community to show solidarity for their Romanian neighbors, and to express their abhorrence at their homes being subjected to racist attacks," she said Tuesday.
E-mail to a friend

CNN's Eve Bower contributed to this report.