By Peter Wilkinson
CNN






LONDON, England (CNN) -- Anti-war protesters have criticized a decision by the UK government to hold an investigation into Britain's involvement in the Iraq war behind closed doors.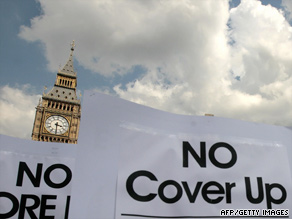 Protesters hold placards with "No Cover Up" and "No More Lies" in London on Monday.
British Prime Minister Gordon Brown told the House of Commons on Monday the inquiry into the war would hear evidence in private so witnesses can be "as candid as possible."
He added that it would be held along the lines of the Franks inquiry into Britain's war with Argentina over the Falkland Islands in the early 1980s.
Brown said the inquiry would be "fully independent of government," and the final report will disclose "all but the most secret of information."
But campaigners for Stop the War coalition dismissed the announcement that the inquiry would be held behind closed doors.
"The decision to hold it in secret is incomprehensible. It gives the impression that this government has something to hide. In the interests of transparency the inquiry should be held in public," spokeswoman Lindsey German told CNN.
"The government says the results will be made public but not until after the election when it will probably have been voted so it will never have to account for its actions. It's another politicians' fix."
Opponents of Britain's hugely controversial decision to join U.S. invasion of Iraq in 2003 have long demanded a public inquiry for years, but the government has always said any probe will only be held when the UK's combat role in Iraq has ended.
Britain is winding down its role in Iraq -- where it has had the second-largest contingent of troops, after the United States -- and is expected to complete its withdrawal by July 31.
Brown said the inquiry would look at events from September 2001, in the run-up to war, until July this year.
Opposition Conservative leader David Cameron criticized the decision to hold the inquiry in private and said people might think it had been "fixed" because its findings would not be released until after the next general election.
At the peak of the war -- during combat operations in March and April 2003 -- the United Kingdom had 46,000 personnel involved in operations in Iraq, including those stationed in support services outside the country.
Brown said a total of more than 120,000 personnel served in Iraq, and paid tribute to the 179 who died in service.
E-mail to a friend

CNN's Nicola Goulding contributed to this report.