(CNN) -- Billionaire Bill Gates and rock musician Bob Geldof have accused Italy and France of failing to follow up on promises to give more support to Africa.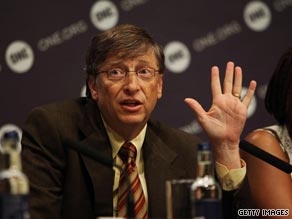 Bill Gates Thursday said industrialized nations need to do more to help developing countries.
ONE, the advocacy group backed by Gates, Geldof and U2 singer Bono, released a report Thursday outlining the progress of the Group of Eight nations in fulfilling financial aid goals to poverty-stricken peoples in sub-saharan Africa.
The report states that Italy has "performed especially poorly" in its share of aid spending and that France has fallen behind on its 2005 commitment.
Despite the economic downturn, the United States, Japan and Canada have followed through on the financial promises they made, according to the report.
The announcement came as Italy is scheduled to host the G-8 summit in July.
"How can you possibly trust any government that promises something and does nothing and expect them to lead the world?" Geldof asked.

Watch full Quest Means Business interview with Bob Geldof »
Seven of the G-8 countries promised to double aid to Africa -- to $50 billion by 2010 -- at their 2005 summit in Gleneagles, Scotland. G-8 member Russia was the only exception.
The group, made up of the world's top economic powers, agreed to settle the debts of the poorest nations and fight HIV and malaria. More than 80 percent of malaria deaths worldwide occur in sub-Saharan Africa, according to the World Health Organization.

"This aid is going overwhelmingly to health, education and agriculture," said Gates. " When you put a billion dollars into vaccines, you save a half a million lives."
Billionaire Bill Gates has urged industrialized nations to honor aid pledges to developing nations despite the recession.

Watch full Quest Means Business interview with Bill Gates. »
E-mail to a friend

All About Bill Gates • Bill & Melinda Gates Foundation