LONDON, England (CNN) -- Six London police officers have been suspended, Scotland Yard has confirmed, amid British media reports that they allegedly tortured drug suspects.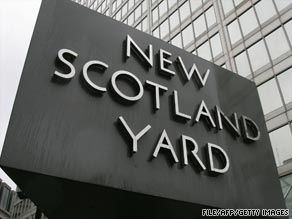 Scotland Yard has said that the allegations against the officers are serious and "raise real concern."
Police officials did not elaborate on why the officers, based just north of London, were under investigation by the Independent Police Complaints Commission.
The six officers have not been arrested but will be interviewed under caution, a spokeswoman for the Independent Police Complaints Commission told CNN Wednesday. Such interviews mean there are grounds to suggest an offense was committed, but they do not presume guilt.
According to Scotland Yard Tuesday, a fellow officer came forward with information which "raised concerns about the conduct of a small number of officers on Enfield borough" in connection to the arrests of five people in November. The department's investigation resulted in a referral to the police complaints commission in April.
In its statement Scotland Yard said: "Whilst the investigation is on-going it is not appropriate to make assumptions. That said these are serious allegations that do raise real concern.
"The Met does not tolerate conduct which falls below the standards that the public and the many outstanding Met officers and staff expect. Any allegations of such behavior are treated very seriously, as this case illustrates, and if found true the strongest possible action will be taken.
The Independent newspaper reported on its Web site that the officers "are understood to have pushed the suspects' heads into buckets of water in a bid to force them to reveal the locations of drugs."
"The torture claims are part of a wide-ranging investigation which also includes accusations that officers fabricated evidence and stole suspects' property," reported The Times in London on its Web site. "It has already led to the abandonment of a drug trial and the suspension of several police officers."
The Metropolitan Police, the UK's biggest service, has come under close scrutiny in recent years.
In early April of this year the force was criticized for its handling of protests during the G-20 summit in London. Critics have said that officers used excessive force against demonstrators, with several allegations now being probed by the Independent Police Complaints Commission.
During the demonstrations passerby Ian Tomlinson, who was not involved in the protests, died in the area.
Several videos of the same incident -- one of which was shot by an American visitor -- show a police officer apparently pushing Tomlinson to the ground.
The Independent Police Complaints Commission, which is investigating the incident as well, said in mid April that a police officer has been interviewed under caution for manslaughter following a second autopsy on Tomlinson.
In a statement at the time the Metropolitan Police Service said that it wished to reiterate its sincere regret in relation to the death of Ian Tomlinson. "Our thoughts are with his family, and all those affected by this tragedy." It added that it was unable to comment on the autopsy findings as the independent investigation by the IPCC was ongoing.
In July 2005 police shot and killed unarmed Brazilian Jean Charles de Menezes on a subway train in south London. The shooting came one day after a failed suicide attack on London and two weeks after four bombs killed 52 people on the capital's transport system.
Jurors at an inquest into his death last December decided that police did not shout a warning at de Menezes before firing at him.
They also found that de Menezes did not advance toward firearms officers, giving them reason to shoot.
After the verdict Paul Stephenson, acting police commissioner at the time, said that de Menezes was innocent, that his death was a tragedy and that the force accepted full responsibility for his death. "For somebody to lose their life in such circumstances is something the Metropolitan Police Service deeply regrets."
E-mail to a friend

CNN's Melissa Gray contributed to this report
All About London • London Metropolitan Police • Jean Charles de Menezes