LONDON, England (CNN) -- London commuters crammed onto buses, scrambled for taxis, cycled or simply walked on Wednesday as a strike by Tube workers shut down most of the subway network.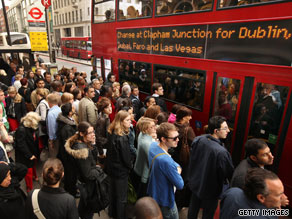 Commuters queue for packed buses in London on Wednesday morning.
The strike began Tuesday at 7 p.m. (2 p.m. ET) but the first full effects were felt during Wednesday's morning commute. The strike was set to last for 48 hours with a normal service resuming Friday morning, according to Transport for London (TfL), which runs the city's transportation network.
The RMT trade union called the strike after talks with management over pay, job cuts, and disciplinary issues broke down.
"RMT doesn't resort to industrial action lightly," General Secretary Bob Crow said in a statement. "The fact is that Tube workers have been driven into walking out today."
Transport Commissioner Peter Hardy said the talks had been making progress on all issues and he urged the RMT to return to the table.
"The RMT leadership says we were close to a deal," Hardy said in a statement. "If that is the case, then they should call off the strike, return to talks ... and resolve this issue without any more disruption to Londoners."
TfL was running extra buses and free shuttle services across the River Thames during the strike. Electronic travel cards used for the TfL network were temporarily being allowed on all train lines in greater London, it said.
While most services on the Tube were shut because of the strike, one line -- the Northern line -- was running normally and five others were running on a reduced schedule, TfL said.
"It's been really good," a girl on Oxford Street told CNN about her commute. "The Northern line is running perfectly."
Still, some bus services were packed with commuters who normally ride the underground trains or who failed to find a taxi.
"I think we'd all like to strike for more money, but unfortunately we can't," said one woman at Oxford Circus, where the Tube is closed.
Others hit the pavement and walked.
"It's OK -- quite refreshing," said a man on Regent Street. He said he had just walked from Liverpool Street Station, a train station as well as a Tube stop that is more than 2.5 miles away.
The RMT represents about half of the 20,000 employees on the Tube, a TfL spokeswoman said. Other unions including Unite and TSSA represent the rest, she said, and were not on strike.
E-mail to a friend