ROME, Italy (CNN) -- Libyan leader Moammar Gadhafi arrived in Rome Wednesday for a historic -- and controversial -- first visit to the capital of Italy, Libya's former colonial master.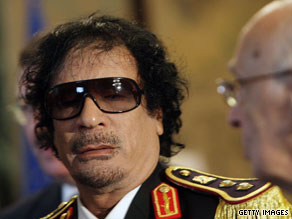 Gadhafi is due to stay in a Bedouin-style tent in a central Rome park.
Italian Prime Minister Silvio Berlusconi greeted the former pariah at Rome's Ciampino airport, amid tight security in the city, declaring later at a news conference that "a new era of peace, friendship and collaboration has begun."
"I recognize in him a deep wisdom," Berlusconi said about Gadhafi.
The leaders of the two nations formally signed four accords, agreed upon last year, that forge stronger economic and political ties.
In meetings with Gadhafi, both Berlusconi and Italian President Giorgio Napolitano expressed regret over Italy's rule of Libya from 1911 to 1941.
Napolitano said a treaty between the two countries last year "has definitely closed the painful chapter of the past. And, it expressed the firm will of both parties to build a new phase in the bilateral relationship."
Gadhafi acknowledged the start of a new era.
"Today's Italy is not the same one of the past," he said Wednesday. "Italy has condemned colonialism and has apologized for what happened in the past. This is what allowed me to finally come here."
But some objected to Gadhafi's red-carpet welcome in Italy. Several groups are protesting the visit of the long-time leader of Libya, which has been accused of backing terrorism, and which expelled Jews and ethnic Italians decades ago.
Amnesty International was among the groups protesting the visit, it announced. The group accuses Libya of not respecting human rights and not adhering to the 1951 Geneva Convention on Refugees.
The Italian chapter of Amnesty International appealed to Napolitano and Berlusconi, as well as to other Italian leaders, to demand human rights guarantees for African migrants held in detention camps in Libya, the group said in a statement.
Rome university students and charities that help the immigrant community have also told CNN that they are protesting Gadhafi's visit because of his treatment of refugees.
Gadhafi's intention to meet the Italian Jewish Libyan community has also created a stir because of suggestion it take place on Saturday, the Jewish Sabbath.
Rome Jewish Community President Riccardo Pacifici said, "At the very least this shows a lack of sensitivity. But it is also a matter of principle. We won't go as a community unless the day is changed."
Libya expelled its Jews following the 1967 Six-Day War between Israel and its Arab neighbors.
Gadhafi arrived with a 300-strong delegation, including his usual female security guards, and will be staying, as is his custom, in a Bedouin-style tent set up in one of Rome's most beautiful central parks, Villa Pamphilli. He is expected to receive visitors there.
Security is tight around the capital, with a no-fly zone starting Wednesday morning and expected to end at midnight on Saturday. The park, a popular playground for children and runners, will be closed off to the public.
Gadhafi comes to Italy as both leader of Libya and as the rotating president of the African Union.
Later on Wednesday he will meet with Berlusconi, with whom he'll hold a news conference Wednesday night.
On Thursday, Gadhafi will address the Italian Senate as president of the African Union in the morning, then hold a debate with students and professors at Rome's La Sapienza university. In the evening, he will meet with Rome's Mayor Gianni Alemanno.
On Friday, the Libyan leader is expected to meet the Italian Equal Opportunity Minister Mara Carfagna and about 700 leading Italian women from the business, cultural, and political worlds.
Also Friday, he will meet at the headquarters of Italy's industrial employers' association Confindustria, where chairman Emma Marcegaglia will introduce him to Italy's leading businessmen.
Saturday, Gadhafi is scheduled to have a "private" day and meet with the expatriate Italian Libyan community. About 200,000 ethnic Italians were expelled from Libya in 1970 and have been banned from returning to the country.
The meeting with the Jewish Libyan community of Italy remains under discussion. The meetings are to discuss the lifting of the travel ban and the restitution of the compensation for the property confiscated by the Libyan authorities after Jews were expelled.
No plans have yet been announced for Gadhafi to pay a courtesy call on Pope Benedict XVI in the Vatican, as many visiting leaders often do.
Italian media are describing the visit as marking a turning point for a new era in Italy-Libya relations and the end of Libya seeing Italy as its former colonial power.
Berlusconi and Gadhafi signed a treaty last year whereby Italy will pay Libya $5 billion over 25 years as compensation for the damages caused during the colonial period.
The accord also calls for Libya to put into effect measures to help combat illegal immigration into Italy via Libyan shores, including patrols of the coast as well as satellite monitoring of its desert borders in the south.
E-mail to a friend

CNN's Hada Messia contributed to this report.
All About Libya • Moammar Gadhafi • Italy