LONDON, England (CNN) -- Leading parties in Germany and France won seats in the European Parliament by wide margins, according to early returns, while the United Kingdom awaited much-anticipated results from what is billed as the world's largest exercise in democracy.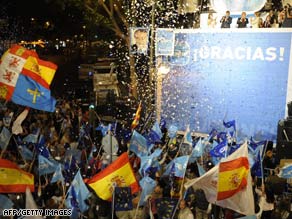 Supporters of the Spanish opposition party Partido Popular celebrate in Madrid Sunday night.
About 375 million people across 27 countries were eligible to vote, with 736 seats in the European Union's legislature up for grabs. Some countries, including Germany and the United Kingdom, see the voting as a preview of what is to come in national elections due soon.
The political party of German Chancellor Angela Merkel, the Christian Democrats, picked up 31 percent of the German vote, defeating the rival Social Democrats party, according to early returns posted on the EU Web site.
French President Nicolas Sarkozy's party, Union for a Popular Movement, got 28 percent of the French vote, fending off the Socialists Party, which brought in 16.8 percent, the EU reported.
There were fears that far-right parties will make big gains in the elections, with disenchanted voters looking to punish mainstream parties amid the global economic crisis.
In the United Kingdom, voting was expected to be dominated by dissatisfaction with beleaguered Prime Minister Gordon Brown's Labor government, as well as a backlash against mainstream parties in the wake of the recent expenses scandal by members of the British Parliament.
Don't Miss
That could benefit marginal parties, raising concerns that the far-right anti-immigrant British National Party could win enough votes to send its first parliament member to Brussels. The Green Party and the anti-Europe UK Independence Party have also been tipped to increase their share of the vote.
Brussels enlisted MTV, the cable television channel, to try to boost turnout after only 40 percent of voters under age 25 cast ballots in 2004. Turnout among all voters was 48 percent that year, the European Union said.
Each country in the union set its own voting timetable with most going to the polls Sunday.
Voters from Bulgaria and Romania, which joined the European Union in 2007, participated for the first time.
In Spain, the main opposition conservative Popular Party won 42 percent of the vote and 23 seats, ahead of the ruling Socialists with 38.5 percent and 21 seats, according to the government's official tally. Six other seats will go to smaller parties.
Meanwhile, Greece's ruling conservative New Democracy party suffered a sharp setback with opposition socialists matching New Democracy's eight seats, with 36 percent of the vote. Sunday's election, seen as a litmus test for conservative Prime Minister Kostas Karamanlis, comes at a time of political and economic uncertainty with the economy shrinking and the country staring at a recession after nearly 15 years of high-profile growth.
The powers of the European Parliament -- the European Union's main legislative assembly -- have increased significantly since it was established in 1979, with the parliament often shaping legislation, which is passed down to national parliaments for ratification at member state level.
But there have been fears that this year's contest could be hijacked by extremist parties taking advantage of low turnout across member states.
A "Euro barometer" poll conducted last month found that only a third of potential voters intended to cast ballots.
In a statement issued Thursday, European Parliament President Hans-Gert Pottering of Germany urged citizens to use their vote to "support those parties that are in favor of European integration and that are committed to our European values."
"The elections to the European Parliament are of a greatest importance. They are a great occasion to re-launch the European Union and to address the issues that are important to citizens such as the economic crisis, unemployment, climate change, energy security, globalization or immigration," Pottering said.
E-mail to a friend

All About European Union • European Parliament