By Samira Simone
CNN





(CNN) -- Millvina Dean, believed to be the last survivor of the Titanic, has died at 97, her friends confirmed Sunday.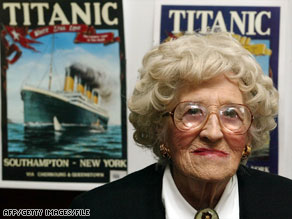 Millvina Dean was just an infant when the RMS Titanic sank.
Dean was just an infant when the RMS Titanic -- publicized as "practically unsinkable" and the largest passenger steamship at the time -- struck an iceberg on the night of April 14, 1912, during its maiden voyage from Southampton in southern England to New York. The ship sank less than three hours later, killing more than 1,500 people.
Brian Ticehurst, a friend of Dean, said she died at 8 a.m. Sunday.
Dean was hospitalized a few days ago for medical complications before returning to the Woodlands Ridge Nursing Home in Southampton, said Charles Haas, a friend and president of the Titanic International Society based in New Jersey.
A nurse at the home declined to comment on Dean's passing.
Haas said Dean's last public appearance was at the British Titanic Society's convention in April, which she attended with her longtime companion, Bruno Nordmanis.
"She only visited a short while, but she wowed everybody with her charm," Haas told CNN. "She seemed in good spirits."
Haas noted that Dean's death fell on May 31, exactly 98 years after the Titanic was launched. The doomed ship, not yet completed, was launched on May 31, 1911, in Belfast.

Watch 'Titanic' survivor discuss artifacts »
While Dean's survival brought her celebrity-like status in some circles, she was 8 years old before she knew she was on the fateful ship. Dean, along with her young brother and mother, survived the sinking of the Titanic, but her mother didn't tell her about it until years later, Haas said.
Although she didn't have memories of the historic and tragic event, Dean, who never married or had children, became a larger presence for Titanic enthusiasts and historians over the past three decades.
"Having gone through that disaster she was given extra years and an extra dose of vitality," said Haas, who recalled escorting Dean to a Titanic society gala a few years ago.

Dean became the last known Titanic survivor after Barbara Joyce Dainton died in October 2007. The last American survivor, Lillian Asplund, died in May 2006.
Dean's death leaves only artifacts and videotaped interviews with survivors to "speak to us about the Titanic," Haas said.
E-mail to a friend

CNN's Justin Lear contributed to this report.