(CNN) -- A gay minister at the center of a row about his appointment to a church in a Scottish city said he was "humbled" after the Church of Scotland upheld his appointment.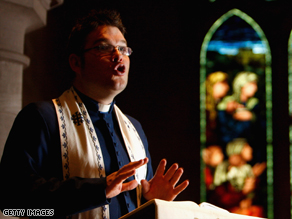 Scott Rennie rehearses a sermon at Brechin Cathedral in northeast Scotland.
In a ground-breaking move, the church's ruling body voted by 326 to 267 in support of the Rev. Scott Rennie, the church said in a news release Sunday.
The 37-year-old's appointment at Queen's Cross Church in Aberdeen, on Scotland's northeast coast, provoked opposition from traditionalist members of the church and has led to fears it could cause a damaging split.
More than 400 Church or "Kirk" ministers and almost 5,000 Church of Scotland members are said to have signed an online petition, organized by the Fellowship of Confessing Churches, against the appointment, the BBC reported.
Papers lodged with the Church of Scotland's General Assembly in Edinburgh claimed scriptures in the Old and New Testament describe same-sex activity as a "wrong choice," the British Press Association said.
However, Rennie's supporters argued that the Bible does not directly address homosexual relationships, which are now "essentially a feature of modern society."
Don't Miss
In a statement released after Saturday night's vote in the Scottish capital, Rennie said: "I am humbled that the General Assembly has recognized God's call upon my life."
Ewen Gilchrist, interim moderator at Queen's Cross Church, was quoted by PA as saying: "It's a good decision for the General Assembly to have made because it sends out a message that we desire to be welcoming, accepting and inclusive.
"The issue of sexual orientation and Scriptural authority is something that has to be wrestled with and cannot be hidden away."
E-mail to a friend