(CNN) -- A Spanish grandmother who became an Internet sensation after dubbing herself the "world's oldest blogger" has died at 97.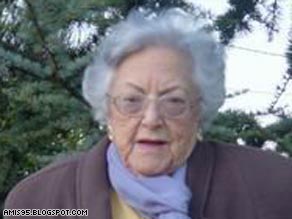 Maria Amelia Lopez became an Internet sensation with her riffs on growing old and modern politics.
Maria Amelia Lopez, who died Wednesday, began blogging from her home in Galicia two years ago, winning a raft of fans with her eclectic mix of commentary and nostalgia infused with a sharp wit.
She was introduced to the Internet when her grandson set up the blog as a gift to mark her 95th birthday.
It proved a great escape, Lopez later writing: "On December 23rd 2006, my grandson gave me a present, this blog when I was 95 years old ... and my life changed ... now, I can communicate and interact with the world."
She wrote and video blogged about her experiences opposing Franco's regime, modern politics -- covering topics ranging from the Basque separatist threat to Iran's nuclear ambitions -- and poignantly discussed what it was like to grow old.
Her fame even saw Spanish Prime Minister Jose Luis Rodriguez Zapatero drop in for a chat. Visit Maria Amelia Lopez's blog
In one of her last postings in February she said: "When I'm on the Internet, I forget about my illness. The distraction is good for you -- being able to communicate with people. It wakes up the brain, and gives you great strength."
Her family left a posthumous post, thanking readers for their support.
"[There were] 880 days when her blog made her happy... the support she needed to enjoy her last days of life," they wrote.
"When somebody leaves after 97 years, living with joy from the beginning to the end, we can't be sad.
"Wherever you are, grandmother, you will read these comments, all of them without doubt. She will laugh at some, will learn with others, she might get annoyed at the specific 'language' used in some ... but she will be happy reading all of them."
E-mail to a friend