By Robin Oakley
CNN Political Contributor





LONDON, England (CNN) -- A minister has lost his job in a furor over expenses claimed by British lawmakers and two others have been cast out from their party.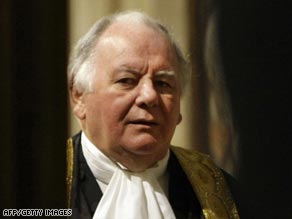 Michael Martin, pictured here in December 2008, ruled against a debate on a motion of no confidence in him as Speaker.
But the biggest potential victim is House of Commons Speaker Michael Martin whose role has become the latest focus for the scandal that is not just dominating political life in Britain but blotting out almost every other subject.
Some lawmakers blame Martin for the unprecedented tainting of parliament because, as Speaker, he not only chairs its debates but is ultimately responsible for the Fees Office overseeing MPs' expenses claims.
Claims submitted by the lawmakers include requests for reimbursements for mortgages that had been paid off; multiple members of the same family claiming the same expenses, and reimbursement for lavish home furnishings.
Martin, no modernizer by nature, has appeared to head efforts by parliamentarians to keep the expenses details out of the public domain. With the media and voters calling for heads on poles he has become a premier target.
In the bad old days of despotic kings, seven of Speaker Martin's predecessors were beheaded and one was murdered. But recent centuries have been kinder. Not since 1695, when a Speaker was sacked for taking bribes, has another lost his position.
It is that fact, and the reluctance of MP's in recent decades ever to criticize the Chair, which makes a no confidence motion calling for Martin's departure such a significant indicator of just how profound the crisis at Westminster has become.
In a statement to lawmakers Monday, Martin said that he was profoundly sorry for his part in the lowering of parliament's reputation over the expenses scams.
But he won few new friends in doing so, reading woodenly from a script in an 'it says here' tone.
Martin insisted: "We all bear a heavy responsibility for the terrible damage to the reputation of this House. We must do everything we can to regain the trust and confidence of the people". But he is having difficulty regaining the trust of MP's.
Douglas Carswell, a member of the opposition Conservative Party and the promoter of the no confidence motion, demanded: "When will members be allowed to choose a new Speaker with the moral authority to clean up Westminster?"
Veteran Conservative Richard Shepherd insisted that parliament's reputation had never been lower. "Many will not believe we are serious about the changes necessary as long as you are in the chair," he told Martin.
A long-termer on the ruling Labour side, David Winnick, told Mr Martin bluntly "Your early retirement, Sir, would help the reputation of the House."
But Martin wriggled clear for the moment on a technicality, consulted his be-wigged clerks and declaring that the no confidence motion wasn't a 'substantive' one (with debating time provided by Government or Opposition) and so would not be discussed.
He did not even give the nod which many would have settled for as a suitable compromise by announcing that he would step down at next year's General Election.
Many legislators were saying afterwards that he had effectively therefore signed his own political death warrant.
Crucially the guns targeted on Speaker Martin have been getting bigger.
Nick Clegg, the Leader of the Liberal Democrats, declared: "Convention dictates that party leaders don't talk about the Speaker but I think that is exactly the culture of unwritten conventions and unspoken rules that got us into this trouble. The Speaker has been defending the status quo for a long time. We need someone different."
The main Opposition leader David Cameron, whose Conservative Party is currently well ahead in the opinion polls despite the well-publicized expenses claims of some of its grandees for clearing moats and servicing swimming pools and tennis courts, has used the row to play a wider game.
On the day of Martin's Commons statement, Cameron used the launch of his party's campaign for next month's European Parliament to make a wider demand.
It wasn't enough, he said, just to settle the question of the Speaker's tenure: "The scale of the problems facing Britain - the recession, the debt crisis and above all the political crisis - all point in one direction. I think there is only one way of sorting out the mess and that is for parliament to be dissolved and for there to be a General Election."

Under the British system the timing of that is in the hands of the Prime Minister, Gordon Brown, who can call it at any time he likes between now and the five year 'time's up' limit which runs out next June.
Amid a raging recession and with his Labour Party's poll standing at a historic low Brown is unlikely to accede to Cameron's request.
E-mail to a friend