LONDON, England (CNN) -- Pubs and clubs in southwest England plan to hand out lollipops next week as a way to reduce noise when their customers head home, officials and pub owners said Friday.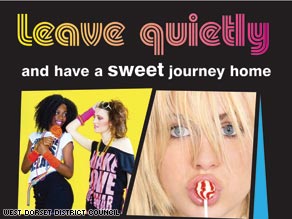 The local council and pubs want people to stop creating so much noise when they go home.
The promotion is the idea of the West Dorset District Council, which covers an area of southern England along the English Channel.
The council has given lollipops to pubs and clubs as part of a weeklong anti-noise campaign that starts on Monday, the council said.
"We would rather that revelers leaving pubs and clubs suck on a lollipop than make unnecessary noise which cause complaints," the council's Environmental Health Team Leader Graham Duggan said in a statement. "We hope that people enjoy the treat and remember the message."
Rick Green, landlord of The Sydney Arms pub in Dorchester, said pub owners came up with the idea together with the council.
The thought was, he told CNN, "that if they got something in their mouths, they wouldn't be quite so loud when they left the premises."
Lollipops are also a good gimmick to make people remember to be quiet on their way home, he said.
The council will hand out lollipops to pubs in five towns including Dorchester and Lyme Regis. If the sweet idea works, Green said, his pub may decide to continue it after next week and pay for the lollipops themselves.
The council has had frequent complaints about the noise people make late at night when they leave pubs and clubs, the council said. The problem has gotten worse in the two years since England introduced an indoor smoking ban, forcing smokers to light up outside, said Green.
"I wouldn't say the people are overly noisy, but if you're sending people out in the evening, noise does travel," he said.
His customers are "intrigued about the idea," Green said.
E-mail to a friend