By Robin Oakley
CNN Political Contributor






LONDON, England (CNN) -- Britain's ruling Labour Party cut ties Thursday with a top member of parliament who admitted guilt in an escalating parliamentary expenses scandal.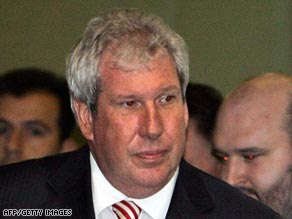 Elliot Morley has been cut adrift by the Labour Party over claim for mortgage he had already paid off.
Lawmaker Elliot Morley was suspended from the Parliamentary Labour Party, a party spokesman told CNN. It means he retains his parliamentary seat but is stripped of his party affiliation.
Morley, who was agriculture minister under former Prime Minister Tony Blair, admitted claiming more than $24,000 in interest payments for a mortgage he had already paid off.
He called it "a mistake," apologized, and said he had repaid some of the money.

Watch more on the scandal »
According to The Daily Telegraph newspaper, which has had access to details of lawmakers' claims and printed them over the past week, Morley also charged rent on his London home to fellow Labour lawmaker Ian Cawsey.
While Morley charged the Commons authorities for mortgage costs on the property, Cawsey paid Morley $1,500 a month in rent and claimed that on his expenses, in what amounted to a "double dip" on public funds.
Don't Miss
Morley's admission is among continued revelations about excessive expenses claims that are embarrassing British parliament members from all parties. Some lawmakers have paid back money to public funds; others face disciplinary action and possible prosecution.
Opposition leader David Cameron, of the Conservative Party, forced eight of his senior parliament members to get out their checkbooks and repay claims they had made for furniture and maintenance on their second homes, warning them they would lose their jobs otherwise.
Members of parliament from outside the capital can claim an allowance for a second home. What do you think about the expense scandal?
But Cameron faced new embarrassment Thursday.
Conservative member of parliament Andrew Mackay, a senior aide to Cameron, resigned after revealing that he and his wife, Julie Kirkbride, also a member of parliament, had each claimed second home allowances on separate properties over eight or nine years.
A party official said it was "an unacceptable situation that would not stand up to public scrutiny."
Mackay said: "Due to an error of judgment in accepting advice from the fees office, I have let a lot of people down."

Watch more on MPs' reaction »
With the House of Commons fearful of more damaging revelations to come, and public contempt for politicians in the mainstream parties growing by the day, several lawmakers have volunteered repayments of allowances they have claimed.

Health Minister Phil Hope paid back $60,000 in fittings and furniture claims, saying he could not stand "the blow to my integrity." Cynics suggested it was more likely the potential blow to his wafer-thin majority of 1,571 in his constituency that was worrying him ahead of a general election next year.
Labour, Conservative and Liberal Democrat lawmakers also fear a backlash in local government and European parliament elections next month, which could benefit fringe parties like the United Kingdom Independence Party and the far-right British National Party.
E-mail to a friend