(CNN) -- Forty-four people were killed during an attack on a wedding party in Turkey's southeastern Mardin province Monday.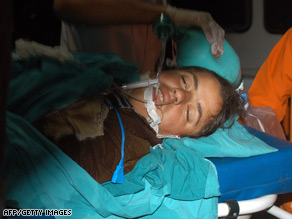 A child lies wounded on a stretcher following the attack by gunmen on the wedding party.
The casualties, which included the bride and groom, were slain while many of them were praying, authorities said.
Three others were injured and eight people were detained in the attack sparked by a feud between families, said Besir Atalay, Interior Minister of Turkey.
There were 17 women and six children among the dead, said Prime Minister Recep Tayyip Erdogan.
"It is inhuman beyond words to open fire on people including a one-year old child who were having a wedding, living a happy moment, praying," Erdogan said.
"The fact that the eight suspects and the victims who died have the same surname increases cruelty of this murder."
The assailants attacked the party in the small village of Bilge with bombs and automatic weapons, according to the Cihan news agency.
With only 32 households in the village there were too many victims to fit into the local morgue, authorities said. Some of the victims had the same last name, Celebi, as the suspects who were detained, Atalay added.
The bride, Sevgi Celebi, and groom, Habip Ari, both died in the attack, Anatolian Agency, Turkey's semi-official news agency, reported.
The chief and the former chief of the village were among those killed in the attack, the agency added.
Police have blocked access to the village while they conduct their investigation.
Mardin Mayor Besir Ayanoglu told Turkish television network NTV that the incident was not terror related.
E-mail to a friend

CNN's Ivan Watson and Yesmin Comert contributed to this report.
All About Turkey