By Al Goodman
CNN Madrid Bureau Chief





MADRID, Spain (CNN) -- A Spanish judge will ask United States judicial authorities if they are already probing or plan to investigate potential charges against six former Bush administration officials for allegedly sanctioning torture of prisoners at Guantanamo Bay, according to a court document.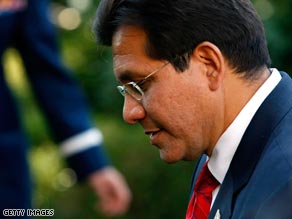 Former attorney general Alberto Gonzales is among six former Bush officials who face potential charges in Spain.
The National Court judge, Eloy Velasco, issued an order dated Monday and made public on Tuesday, directing Spanish officials to seek that information from the United States, before the judge determines whether to proceed or not with a potential case in Spain against the six former Bush officials.
Velasco wrote that the case before him in Spain, initially submitted by a prisoners rights group, is in a "premature phase" and that the country "best positioned" to investigate the alleged crimes could be the United States.
Spanish prosecutors already have argued that the case should be closed in Spain and that it should be handled, if at all, in the United States.
The judge asked for an answer on whether the allegations against the six former officials "are being investigated or pursued, or not," by U.S. judicial authorities, "or if they will be, indicating the specific court that would be doing so and identifying the specific case number," the court order said.
A prisoners rights group presented the complaint to the Spanish court, alleging that the six former Bush administration officials, including former attorney general Alberto Gonzales, sanctioned torture against terrorism suspects being held at the U.S. detention camp at Guantanamo Bay, Cuba.
Don't Miss
U.S. President Barack Obama, whose administration recently declassified documents relating to Guantanamo, has said he opposes prosecuting CIA operatives who may have conducted harsh interrogations at detention facility.
But Obama appeared to leave open the possibility that those who designed the legal framework for the techniques might come under closer scrutiny in the United States.
Velasco's potential case in Spain is separate from a probe announced last week by another Spanish judge, Baltasar Garzon. He ordered an investigation into harsh treatment of prisoners at Guantanamo Bay under the Bush administration on suspicion that there was "an authorized and systematic plan for torture," according to a court document.
Garzon's case involves four former Guantanamo prisoners -- a Spaniard, a Moroccan, a Palestinian and a Lebanese -- who testified before Garzon that they had been tortured while held at Guantanamo.
Two of the four were acquitted in Spain of terrorism charges, while similar charges against two others were shelved, according to a court order from Garzon last week.
E-mail to a friend